Johnny Depp is the real-life photographer who documented the chemical poisoning of a Japanese fishing village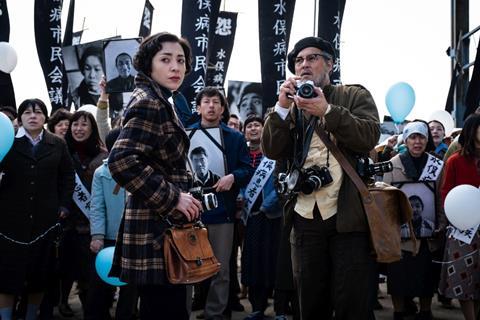 Dir. Andrew Levitas. UK. 2020. 115mins
True-life drama Minamata can't be faulted on ecological rage: if ever a film had its heart in the right place, it's this feature by multi-disciplinary artist and film-maker Andrew Levitas (2014's Lullaby). It stars Johnny Depp – also credited as a producer – as an American photographer on a mission to Japan who ends up exposing a horrific case of industrial pollution. The star's pugnacious performance may enhance the prospects of a serious-minded, yet narratively sluggish, cliche-laden drama. Falling into the troublesome category of 'white saviour' dramas, it seems unlikely to win serious acclaim.
Commercial prospects rest on a solid and serious-minded performance from Depp
The film's true story is about a 1971 trip to Japan by acclaimed news photographer W. Eugene Smith (Depp). He's first seen as an alcoholic, war-traumatised casualty with a bohemian lifestyle betokened by a shaggy beard and ever-present beret. His days as a star snapper for Life magazine are behind him and, although he thinks nothing of swaggering into an editorial meeting and throwing his weight around, editor Bob Hayes (Bill Nighy, playing it implausibly hard-boiled) ruefully gives him the bum's rush. Then Smith receives a visit from a young Japanese woman, Aileen (Minami), ostensibly for a Fujicolor commercial but really with an ulterior motive: she wants him to bring his camera to the Japanese village of Minamata, to alert the world to the damage caused by the Chisso company's chemical plant. Initially reluctant, and still busy wrestling with his demons, Smith is eventually persuaded.
In Minamata, he meets determined local campaigners fighting for recompense, and discovers the shocking physical effects pollution has wrought on adults and children alike. Smith's own determination waxes and wanes, and Chisso boss Nojima (an imposingly chilly Jun Kunimura) tries to talk him off the project before taking more drastic steps. But Smith sticks to his guns at considerable personal risk, and ends up exposing Chisso's abuses to the world – not least through one picture known as 'Tomoko in her Bath', a pietà-like image that achieved iconic status.
Levitas and his co-writers take a calculated risk in centring the story on Smith. Making a Japanese story so predominantly about an American hero, especially one seeking personal redemption — and especially in this culturally sensitive moment — risks looking culturally solipsistic, and sidelines the viewpoint of the Japanese community concerned. The Japanese characters only come to the fore intermittently, too often with a mawkish streak of sentimentality; as in the case of a teenage boy with deformed hands whose upbeat survivor spirit tugs Smith's heartstrings.
The narrative follows a clichéd structure – with Smith's mission mechanically dogged by setbacks and changes of heart before he faces up to his destined mission. A romance with Aileen, whose job is largely to adoringly provide moral support, is especially awkward given her youth and Smith's grizzled disillusionment (although, as the end titles inform us, the couple married in real life).
Altogether solemn in tone, the film is undeniably handsome, with DoP Benoît Delhomme steeping the Japanese landscape in melancholy atmospherics, but Minimata tends to over-aestheticise its material, not least in the too-elegant recreations of Smith's black and white imagery. Ryuichi Sakamoto's score bolsters the drama with the maestro's characteristic ease, even if it sometimes verges on the bombastic – a term that certainly applies to the non-Sakamoto closing ballad sung by Katherine Jenkins (the wife of the director who appears in a cameo role).
Old-fashioned, even anachronistic, Minamata carries some heft as an argument for the currently imperilled profession of old-school investigative journalism, and it emblazons its environmental passion in the end-credits roll of images from man-made calamities of the last few decades. But commercial prospects rest on a solid and serious-minded performance from Depp, generally dialling down his eccentricities except in Smith's boozier moments and more pronounced beatnik mannerisms. Overall, however, Minamata may be about mercury in the water, but dramatically it's a case of lead in the pipes.
Production company: Metalwork Pictures
International sales: Hanway Films info@hanwayfilms.com
Producers: Sam Sarkar, Kevan Van Thompson, Andrew Levitas, Johnny Depp
Screenplay: David K. Kessler, Stephen Deuters, Andrew Levitas, Jason Forman
Cinematography: Benoît Delhomme
Editor: Nathan Nugent
Production design: Tom Foden
Music: Ryūichi Sakamoto
Main cast: Johnny Depp, Hiroyuki Sanada, Minami, Jun Kunimura, Ryo Kase, Tadanobu Asano, Bill Nighy