Dir. Sean Foley. UK, 2016, 89 mins.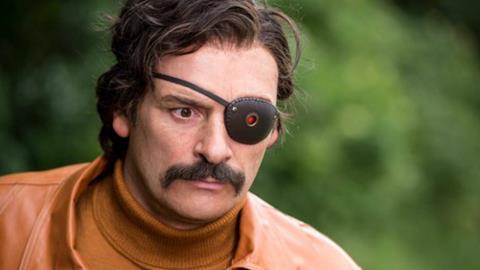 Entering a British comedy film market that's been consistently dominated lately by popular TV characters and brands – The Inbetweeners, Alan Partridge, Dad's Army, Absolutely Fabulous, David Brent – co-writers Julian Barratt and Simon Farnaby fly the flag for a rare original idea with the goofy, genial, fitfully inspired Mindhorn.
Comic dividends follow every time Thorncroft connects with his past
Its high-concept premise – a washed-up actor (Julian Barratt) once famous for playing a popular British TV detective is called into action after a real-life criminal demands the fictional character as his nemesis – should resonate with audiences old enough to fondly remember UK sleuthing shows such as Bergerac and Shoestring. Given the parochial conceit, though, foreign markets look a tougher sell.
Baby Cow Productions' comedy sketch show The Mighty Boosh (2003-2007), co-written by and co-starring Barratt, has already earned its place in history as a talent incubator. The show's director Paul King went on to create the uneven 2009 indie flick Bunny and the Bull (featuring both Farnaby and Barratt in its cast), before hitting the jackpot with 2014's Paddington. And Farnaby himself played the occasional guest role on The Mighty Boosh, going on to greater success in TV's Horrible Histories and Yonderland.
Mindhorn introduces the titular character – a detective with a robotic eye who can literally "see the truth" – on the show's Isle Of Man set in 1989. Cut to 25 years later, and actor Richard Thorncroft, having spectacularly failed to launch a Hollywood career when he petulantly quit the show after three successful series, suffers a humiliating audition with director Kenneth Branagh (gamely playing himself), then gatecrashing a meeting with his long-suffering talent agent (Harriet Walter).
In fact, it turns out that Thorncroft is actually in demand: a crazed Isle Of Man criminal who calls himself The Kestrel (Russell Tovey) offers to negotiate only with Mindhorn. The actor is advised that the opportunity might reignite some much-needed career heat.
Comic dividends follow every time Thorncroft connects with his past, especially the very funny sparring sessions with his former stunt double (a South African-accented, clothes-averse Farnaby), who is now married to Patricia Deville (Essie Davis), Mindhorn co-star and former lover of Thorncroft. It's the actual present day storyline – generic shenanigans involving a corrupt Isle Of Man mayor (Nicholas Farrell), various local cops and an incriminating videotape – that proves more of a challenge for debut screen director Sean Foley (who co-wrote and co-starred with Hamish McColl in the Branagh-directed stage hit The Play What I Wrote, going on to significant solo success as a theatre director).
Andrea Riseborough, wasted as a police detective tangled up in the case, presumably agreed to appear as a favour to Baby Cow's Steve Coogan, with whom she co-starred in the recent South Africa-set Shepherds And Butchers, and who features here as both cast member and executive producer.
As for the Thorncroft/Mindhorn character himself, the transitions from suave conceit to quiet desperation raise a fair few smiles, even if the pompous man-child veers a little close to Coogan's own Alan Partridge on occasion.
At the London Film Festival world premiere, the writer pair revealed their early concerns that Barratt was too young for this role, a problem that resolved when they then took ten years to write the screenplay. Barratt, bloated paunch strapped in by girdle and bald-pated underneath his wig, is certainly game, and further adventures might conceivably ensue if Mindhorn connects in its home market, when StudioCanal – also a producer partner here – rolls it out next spring.
Production company: Scott Free Films
International sales: Protagonist Pictures, info@protagonistpictures.com
Producers: Jack Arbuthnot, Laura Hastings-Smith
Screenplay: Julian Barratt, Simon Farnaby
Cinematography: David Luther
Editor: Mark Everson
Production design: Peter Francis
Music: Keefus Ciancia, David Holmes
Main cast: Julian Barratt, Essie Davis, Andrea Riseborough, Russell Tovey, Simon Farnaby, Steve Coogan, Richard McCabe, Jessica Barden, Nicholas Farrell, David Schofield, Robin Morrissey, Harriet Walter