An unflinching take on a strange partnership between a monther and her troubled son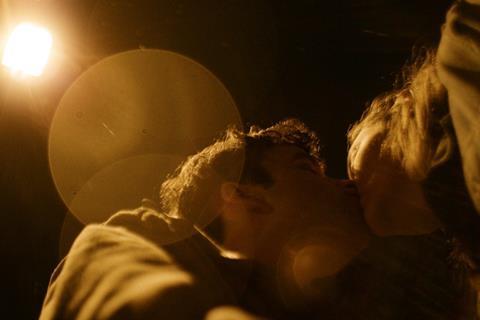 Dir/scr: Frédéric Hambalek. Germany. 2020. 89 mins
There is something amiss with the son (Alban Mondschein), a young man in his late teens or early twenties. There's a compulsive quality and a coldness within him – the latter echoed in the icily dispassionate approach of this austere and unsettling feature debut. His mother (Anna Steffens) is aware of her son's unhealthy proclivities – he is fascinated with violence, something which is an integral part of his sexual fantasies. So she has devised a therapeutic model with the aim of reprogramming his antisocial tendencies. It has mixed results. The arrival of a new neighbour (Mathilde Bundschuh) – a self-assured young woman – disrupts the carefully balanced structure of the life that the son and his mother share together.
A voyeuristic viewpoint, which is all the more uncomfortable given the nature of the inclinations which the son tries and fails to suppress.
First-time feature director Frédéric Hambalek's unflinching, unsensational take on material which takes a dark turn in the final act positions this film firmly at the more demanding end of the arthouse spectrum. Analytical, intellectual and interested more in the off-kilter mother-son relationship than in his violent urges, this is filmmaking which shares a kinship with directors like Markus Schleinzer or Michael Haneke. Thematically it may be tough, but it is impressive as a showcase for Hambalek's assurance as a filmmaker, and should find further interest on the festival circuit.
Like much in the film, the title is left unexplained. But it seems likely to be a reference to Alexander the Great's overbearing mother. And a Freudian analysis of the son's sexual anomaly would no doubt suggest that it is the mother who is the cause of her son's problems rather than a potential solution; that it is his mother he ultimately fantasises about choking to death. If she is aware of it, the mother doesn't let on.
Steffens has finessed the kind of steely autocratic nurturing that is somewhat reminiscent of One Flew Over The Cuckoo's Nest's Nurse Ratched. The son confesses his transgressions – she exudes the kind of all-knowing and all-seeing judgement which makes it impossible for him not to. His punishment, devised by his mother, is cruelly inventive and involves a roll of cling film.
There's a domineering quality to the mother's care which certainly seems likely to contribute to her son's issues. How healthy is it, for example, for a mother to dictate her child's masturbation material – conventional, heteronormative pin up pictures and an erotic audiobook – and then to demand evidence of a successful emission. Realising that his inclinations are not easily shaped by her therapeutic methods, she changes tack, hauling home a shop mannequin for him to choke with the cord to a dressing gown. The plastic limbs of the mannequin are not particularly well attached, and tend to fall off, rather ruining the effect, but adding a moment of dark comedy. A prostitute hired by his mother to reinforce socially acceptable sexual practises also fails to hit the mark. But the neighbour, a student who seems unphased, even amused, by the oddness of her upstairs neighbours, proves to be fascinating to both mother and son. Fatally so.
With virtually no score, the atmosphere of the film is created with sound design and, particularly, through Alexander Griesser's cinematography. Although shot in a generous anamorphic widescreen, the audience frequently finds itself peering through the narrowest of cracks in order to observe the action. It's a voyeuristic viewpoint, which is all the more uncomfortable given the nature of the inclinations which the son tries and fails to suppress.
Production company/international sales: Frédéric Hambalek Filmproduktion, office@frederichambalek.com
Producer: Mariana Schneider, Frédéric Hambalek
Cinematographer: Alexander Griesser
Editing: Matthias Pfeiffer
Production design: Ann-Kathrin Vollmers
Main cast: Alban Mondschein, Anna Steffens, Mathilde Bundschuh, Mira Benser, Denis Larisch