Edward Norton's long-gestating hard-boiled detective story fails to fully connect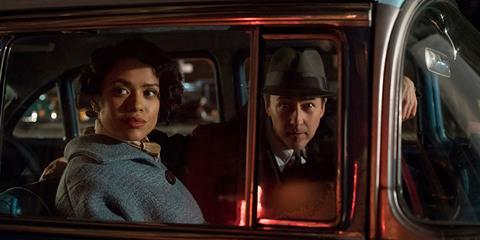 Dir: Edward Norton. US. 2019. 144 mins
There is no denying the commendable ambition of Motherless Brooklyn. Bringing Jonathan Lethem's 1999 novel to the screen has been a long-gestating passion project for Edward Norton, who has written the screenplay, co-produced, directed and starred. A slice of New York social history with striking modern parallels, it unfolds within the very traditional tropes of a hardboiled detective story. The novelty here is a Marlowe-style gumshoe with all the involuntary physical tics and verbal gymnastics of Tourette's syndrome.
Norton may have bitten off more than he can comfortably chew
The character may be unusual but the complex conspiracy of shady characters and dodgy dealing is all too familiar, dragging down a film that already has a lengthy running time. The commercial response could be muted and it is hard to avoid the conclusion that somebody made this film already and it was called Chinatown.
Norton's biggest change to the novel is to set the story more firmly in noir territory by moving the action to the 1950s. That allows cinematographer Dick Pope to conjure Edward Hopper visions of cafes and clubs where gloomy interiors are illuminated by pools of light. This is a world of smoky Harlem jazz clubs, glowing neon signs, swirls of steam hissing from grates and morning mists clinging to the Brooklyn Bridge. A bluesy, jazzy score by Daniel Pemberton adds to the atmosphere.
Lionel Essrog (Norton) works for a detective agency run by Frank Minna (Bruce Willis). The members were all orphans raised by Catholic Nuns, hence the 'Motherless'. When Frank is shot, Lionel is determined to discover why. He starts to piece together a tale of big city corruption in which inconveniences like Frank and Lionel are entirely disposable.
Motherless Brooklyn often feels torn between its immersion in the cliches of hardboiled detective fiction and the urge to further explore the much more intriguing elements of social history. This is a moment when building a better future for the inhabitants of Manhattan and Brooklyn is a thinly veiled disguise for clearing out the poorest, working class and black residents, hiking up prices and making fortunes from lucrative property development.
Powerful elites consider themselves beyond the law. Every politician seems to want to sup from the "biggest gravy train in town" but autocratic Moses Randolph (a bullish, seductive Alec Baldwin ) is even more dangerous because of his unwavering belief that the ends justify the means. Randolph is a surrogate for real life "master builder" Robert Moses.
Unfortunately, Norton places much more emphasis and screen time on the detective elements, from an abundance of laconic voice-over to Lionel constantly being clobbered over the head. There is even vital information that can only be conveyed in person by someone who will inevitably wind up dead by the time Lionel arrives.
Lionel's Tourette's is initially quite distracting but adds to his vulnerability and appeal to Rose (Gugu Mbatha-Raw), a young black woman with a law degree who is lending her voice to those fighting city hall. Facing the racism and sexism of the period, she is more deeply involved in events than she can possibly imagine.
A handsome film that is always watchable, Motherless Brooklyn never quite hits the bullseye and may just be a case of Norton having bitten off more than he can comfortably chew.
Production companies: Class 5 Films, MWM Studios
International distribution: Warner Brothers
Producers: Bill Migliore, Edward Norton, Gigi Pritzker, Rachel Shane, Michael Bederman
Screenplay: Edward Norton based on the novel by Jonathan Lethem
Production design: Beth Mickie
Editing: Joe Klotz
Cinematography: Dick Pope
Music: Daniel Pemberton
Main cast: Edward Norton, Bruce Willis, Gugu Mbatha-Raw, Bobby Cannavale, Cherry Jones, Leslie Mann, Alec Baldwin, Willem Dafoe