Philip Gröning returns to test the viewer again with this tale of teenage siblings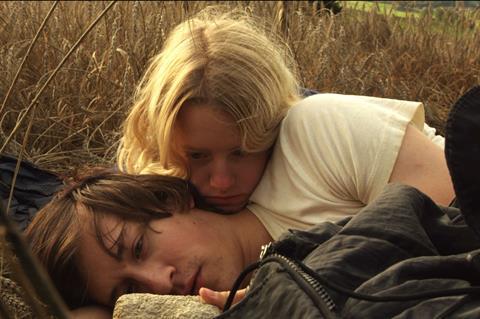 Dir. Philip Gröning. Germany/France/Switzerland. 2018. 172 mins.
It could be construed as a reckless act of audience baiting to make a very slow three-hour film in which a character eventually comments, "Duration is unending." But for German filmmaker Philip Gröning, testing the viewer's patience has highly serious ramifications: weighing in at similar lengths, his documentary Into Great Silence captured the meditative, seemingly event-free existence of Trappist monks, while fiction feature The Policeman's Wife was an uncompromising dissection of domestic violence.
An intrepid, original undertaking that may appeal to viewers who feel that Michael Haneke is getting too cosy these days
Gröning confronts his viewers even more pitilessly with My Brother's Name Is Robert…, a slow-burning drama about a strange sibling relationship, which moves from lyrical contemplativeness to brutal intensity in the course of an enigmatic, super-wordy, unapologetically cerebral drama. What the film adds up to is debatable: some will read it as a complex analysis of a contemporary crisis in intellectualism and in youth identity, others will reject it as an earnest bore from the start. It's certainly an intrepid, original undertaking that may appeal to viewers who feel that Michael Haneke is getting too cosy these days.
Robert and Elena (Josef Mattes, Julia Zange) are teenage siblings who have a morbidly close and, it's suggested at the start, incestuous relationship. The film follows them over 48 hours in summer in the fields and forests around a secluded gas station (the film was shot in Baden-Württemberg, near Germany's border with France and Switzerland). Elena is about to take her final high school philosophy exam, and Robert – who, contrary to the title, is no dope but a hardcore brainiac – joins her over a weekend to loll around, sunbathe, skinny dip, scan her textbooks and muse at great length, and in great abstraction, about time, consciousness and other imponderables. The philosophy of Heidegger, St Augustine, Bergson et al is invoked, and the German Romantic tradition further referenced in the shot of a book by poet Novalis.
Elena bets Robert, who has been dating local girl Cecilia, that she too can have sex before her exam comes round, and while they're dropping in for beer at the gas station – where they delight in baiting the attendants, young Adolf and older guy Eric (Urs Jucker) - Cecilia has a stab at seducing a likely candidate, an unsightly lad who gets short shrift when she changes her mind. For the first hour of the film, next to nothing happens except the talk and the in-depth capture of a hazy bucolic atmosphere. After that, however, perhaps because the summery inertia is getting just too much for the duo, things become increasingly tense and chaotic: a drunken Robert gets stuck in the gas station overnight, while Elena takes a bike ride with Erich through red-tinged darkness.
By the end, the film has come to resemble Terrence Malick's Badlands with scholarly footnotes and a script polish by playwright Edward Bond. The final act is intense and unsettling, and comes seemingly out of nowhere – although Gröning offers warning signals some way ahead. What the writer-director is gesturing at in all this, however, remains elusive – and it's certainly not a film that wishes to be too direct. The film may be a comment on consumerism; on the way that intellectual commitment can go hand in hand with moral vacancy; or on the legacy of disturbance that continues to haunt new generations of modern German youth. All these possible significations are up for grabs if the viewer is committed enough to eke them out, but not everyone will be.
Whether you regard the film as profound or glossily pretentious, what's not debatable is that Gröning, acting as his own cinematographer, has a meticulous approach to creating visual images. Whether he's studying the rippling of long grass, positioning a godlike camera high above his characters or coming into tight close-up on a grasshopper, the film has an intense beauty for most of its running time, even in the garage, where light and reflections create an ominous aquarium atmosphere. The performances by the lead duo, and by Jucker, are nothing less than fearless, and it's a film undoubtedly made with patience, pitiless vision and nerves of steel. It'll take patience and similar steeliness for viewers to make the most of it, and whether or not the payoff is truly substantial, at the very least Gröning offers the kind of challenge that most contemporary film-makers wouldn't even attempt.
Production companies: Philip Gröning Filmproduktion eK, Bavaria Pictures, L Films, Bayerischer Rundfunk, WDR, ARTE, Ventura Films
International sales: The Match Factory, info@matchfactory.de
Producers: Philip Gröning, Dr. Matthias Esche, Philipp Kreuzer, Emmanuel Schlumberger
Executive producers: Philip Gröning, Gilbert Moehler, Pascal Metge
Screenplay: Philip Gröning, Sabine Timoteo
Cinematography: Philip Gröning
Production design: Alexander Manasse, Maja Zogg, Sebastian Wurm
Editors: Philip Gröning, Hannes Bruun
Main cast: Josef Mattes, Julia Zange, Urs Jucker, Stefan Konarske, Zita Aretz