A man must relocate his deceased father's bones to fulfil his mother's dying wish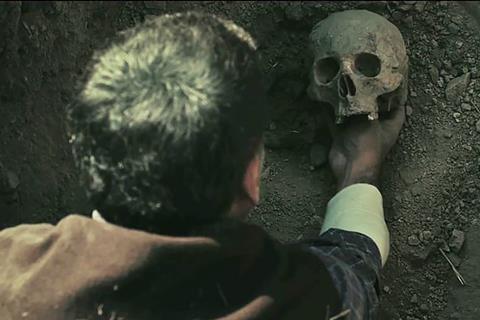 Dir: Ozkan Celik. Turkey. 2018. 103mins
A father and son come to terms with the past, and each other, in My Father's Bones, a Turkish drama with — as the title suggests — a faintly macabre streak. Elegant execution and a strong lead performance by Cem Davran should ensure respectable festival presence for Ozkan Celik's second feature, following 2014 horror title Muska.
Davran's downbeat, careworn performance gives his character more grace than we might expect
Working in a straight realist vein, Celik tells the story of Omer (Davran), a disillusioned middle-aged man who grew up in a village, but is now a city dweller scraping by running a small car wash. His relationship with wife Nurten (Goncagul Sunar) is strained, partly because of son Huseyin (Omer Aydede), a taciturn boy who is failing his exams. Before Omer's mother (Tanju Tuncel) dies, she insists that she be buried next to her late husband — and that his remains be brought back to the city. So Omer drives Huseyin to the village that he left in his teens, a chiaroscuro episode that takes place at night by torchlight.
The trip culminates in the exhumation of Omer's father, a sequence that proves tragi-comic rather than grisly. The road trip itself is sustained by Huseyin's emergence as a character. The boy turns out to be a lot smarter than he appears, not least about the facts of death — a grim running gag that Ismail Doruk's script spins out amusingly. The solemn, restrained performance by young actor Aydede is among the film's strongest assets.
The revelation of Omer's teenage crisis does not entirely come as a surprise and a reunion with a figure from his past is somewhat thrown away — although to its credit, the film declines to milk the scene for its more obvious emotional potential. Still, it all helps illuminate Omer as a man who has taken an unexpected path and has lived ever since in a state of anxious, cantankerous discontent. And Davran's downbeat, careworn performance gives his character more grace than we might expect.
Serdar Ozdemir's widescreen photography catches the everyday drabness of Omer's city life, with the imagery opening up as the film hits the road amid some imposingly stark landscapes.
Production companies: Papyon Film, Turhal Belediyesi, Celik Film
Sales contact: Mustafa Ensari Dal, mustafaensari@gmail.com
Producer: Mustafa Ensari Dal
Screenplay: Ismail Doruk
Editing: Nilay Atilgan, Ozkan Celik
Cinematography: Serdar Ozdemir
Main cast: Cem Davran, Omer Aydede, Goncagul Sunar, Tanju Tuncel