A brother and sister reconnect in Switzerland as he recovers from leukaemia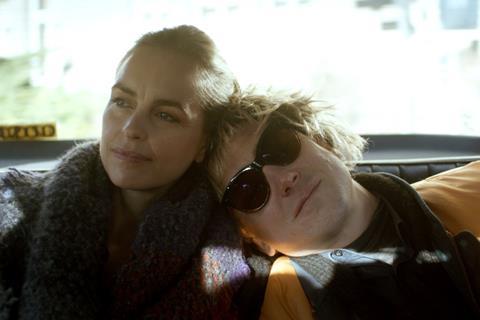 Dirs/scr: Stephanie Chuat, Veronique Reymond. Switzerland. 2020. 99mins
The pleasure of watching five fine actors feed on each other's crackling dramatic energy drives this sensitive if not exactly groundbreaking Swiss cancer drama. Nina Hoss quivers like a tightly-wound string as the playwriting sister of Lars Eidinger's lymphoma-afflicted actor, while Danish actor Jens Albinus, German cinema veteran Marthe Keller and leading theatre director Thomas Ostermeier provide solid dramatic obstacles for the pair to bounce off.
The film's core is Nina Hoss, delivering a raw, compelling, performance that is up there with her strong turns in Christian Petzold's Barbara or last year's underrated The Audition.
This is the second fiction feature by Stephanie Chuat and Veronique Reymond, a Swiss directing duo who have also dabbled in documentary and TV. Their dramatic debut, the Michel Bouquet vehicle The Little Bedroom, premiered in Locarno in 2010. My Little Sister is a bigger film than that intimate chamber drama, but not by much: the focus is still on a small group of characters and the emotional fault lines that open up within and between them when Eidinger's character, Sven, comes back into their lives halfway through his treatment for an aggressive form of leukemia.
My Little Sister is an affecting, emotionally truthful experience which should play best to resilient Northern European arthouse audiences and festival crowds. But if it sounds like a tough watch, it can be. It's not so much the mortal details of Sven's decline – the hair loss, the eczema – that make for occasionally heavy viewing.
My Little Sister tracks, in its opening scene, a thread of blood travelling down a hospital tube from the arm of Hoss's character Lisa. Various forms of emotional blood-letting and blood-giving will dominate what follows, as Lisa travels to the Berlin bedside of the man this transfusion is destined for, her twin brother Sven (she's younger than him by exactly two minutes).
Two kinds of family await the exhausted but in-remittance Sven on his release from hospital. The first is the actor's creative home, Berlin's Schaubuhne theatre, whose director, Thomas Ostermeier, plays a version of himself in the film. The second is the city apartment of his mother (Keller), a feisty but fragile, sensitive but selfish old stage actress who aims passive-aggressive barbs at both her children, can't bear to see Sven looking so depressingly sick, and is clearly in no state to care for him. So Lisa is forced to take her brother back to the home she shares in the Swiss Alps with her two children and husband Martin (Albinus), the headmaster of an exclusive private high school for seriously rich kids.
Shot on a handheld camera which makes subtle use of focus pulls and blurs to mirror both Nina's emotional unravelling and the way her point of view overlaps and melds with that of her brother, My Little Sister is about emotional and sentimental displacement as much as it is about the effect of a brother's illness on a woman's life, family and marriage. It's a theme explored in the film's uneasy shuttle between a grey Berlin and the anodyne Alps, in the skewed wigs Sven wears to hide his chemo-ravaged scalp, in the play based on Hansel and Gretel that Nina begins writing after a long creative drought, and in the lines from Hamlet that Sven quotes to his sister – a play that he was due to star in at the Schaubuhne before his cancer took hold.
None of these metaphors, however, quite take root. They're laid out like a pack of cards for us to choose from in a film whose core is Nina Hoss. She delivers a raw, compelling, performance that is up there with her strong turns in Christian Petzold's Barbara or last year's underrated The Audition.
Production company: Vega Film
International sales: Beta Cinema, beta@betacinema.com
Producer: Ruth Waldburger
Production design: Marie-Claude Lang Brenguier
Editing: Myriam Rachmuth
Cinematography: Filip Zumbrunn
Music: Christian Garcia-Gaucher
Main cast: Nina Hoss, Lars Eidinger, Marthe Keller, Jens Albinus, Thomas Ostermeier, Linne-Lu Lungershausen, Noah Tsharland