Dirs. Henry Joost, Ariel Schulman.US, 2016. 96 mins.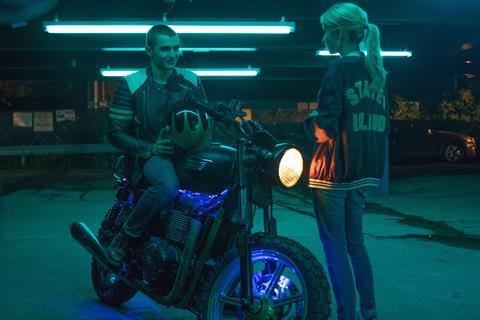 A zeitgeist-y teen internet thriller, this neatly-packaged Lionsgate adaptation of Jeanne Ryan's YA novel might just catch a Pokemon Go wave and hit its affluent YOLO audience in theatres and on-demand. A timid teenager – 25 year-old Emma Roberts playing down to 17 – enters an online daring game and accepts a series of escalating challenges for financial reward and peer approval only to find herself out of her depth in directors Henry Joost and Ariel Schulman's (Paranormal Activity 3 and 4) slightly vanilla thriller.
This makes the prospect of watching teenagers stare at their mobile phones visually interesting. And that's quite a feat.
Lacking sufficient edge to attract older audiences – the types who go for Ring, Scream or even Mean Girls – this is set for the 12 and 13 year-old crowd and younger, with an eye to exploiting Roberts' Scream Queens cachet. With more than a few trenchant points to make about the dangers of living online, which parents – and schools – may well respond to (themes explored by the directors in their documentary debut Catfish), Nerve seems poised to attract attention when it opens worldwide following a Comic-Con premiere this week.
Playing Vee Delmonico, Roberts is a reliably bland teenager, outshone on every occasion by her outrageous best friend Sydney Sloane (the likeable Emily Meade). With an over-protective mother (Juliette Lewis) and a late, lamented brother, she enters the online daring contest Nerve on the spur of the moment. The popular, adults-not-allowed game allows contestants to be either watchers or players. Deciding to become a player, she encounters the mysterious Ian (Dave Franco, younger brother of James) and they begin to attract high viewing figures and enjoy immediate financial rewards.
But the dares begin to spiral into a danger zone, and Vee becomes increasingly aware of how tightly Nerve's tentacles have wrapped around her life. In this kids-only zone, "snitches get stitches".
Spicing up the action is a high-pitched psycho drama between boring Vee (Emma Roberts), and her exhibitionist best friend, Sydney. And a romance, of course, between Vee and the handsome Ian, whom she meets when she is dared by the game to kiss a stranger for five seconds.
For all that it bounces off a lot of contentious issues about children and the internet, where Carrie-style bullying has moved into the unsupervised zone of cyberspace, Nerve frustratingly stops short before eventually falling in on itself in the third act – the danger is never followed through to its logical, kid-unfriendly conclusion, flirting with Lord Of The Flies territory before backing rapidly away. Roberts isn't wholly credible either as a Staten Island teenager who likes the Wu Tang Clan's C.R.E.A.M and is willing to drive blindfolded through Manhattan at 60mph – never mind get a mystery tattoo.
While Roberts looks good in the sparkly green couture dress she's required to wear throughout, this is more indicative of the sophisticated production values behind a modestly-budgeted film which benefits greatly from a nice eye from the directors and cinematographer Michael Simmonds. They make the prospect of watching teenagers stare at their phones visually interesting. And that's quite a feat.
Production companies: Lionsgate Films, Tik Films (HK)
International sales: Lionsgate
Producers: Allison Shearmur, Anthony Katagas
Screenplay: Jessica Sharzer, based on the novel by Jeanne Ryan
Cinematography: Michael Simmonds
Production design: Chris Trujillo
Editors: Jeff McEvoy, Madeleine Gavin
Composer: Rob Simonsen
Music supervisors: Randall Poster, Meghan Currier
Main cast: Emma Roberts, Dave Franco, Emily Meade, Miles Heizer, Juliette Lewis, Colson Baker, Kimiko Glenn, Marc John Jefferies, Brian Marc, Samira Wiley