British director Jamie Jones competes at Tribeca with a story set during London's 2011 riots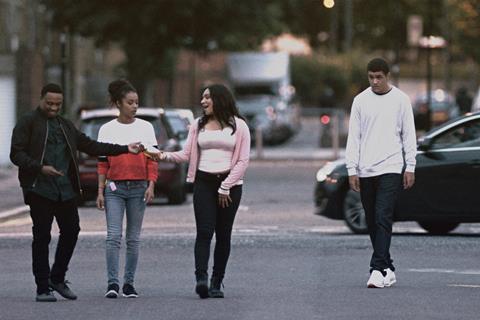 Dir/scr. Jamie Jones. UK. 2018. 90 mins.
While he doesn't quite tackle a new subject for a first-time British film-maker, Jamie Jones delivers something different and for the most part absorbing in Obey, a drama set during the East London riots of 2011. Independently financed, this doesn't have a slick veneer from being processed through funding bodies or workshops – for better and for worse. Competing at Tribeca, Obey has the fresh, outsider feel of a My Brother The Devil, or Shifty, although it is less coherent as a whole.
This is not a tale that was ever going to end well, although Jones tackles it in interesting ways
Also making his feature debut, young actor Marcus Rutherford stars as 19 year-old Leon, who voluntarily placed himself in care four years ago and is now back living with his alcoholic mum Chelsea (a strong performance from T'Nia Miller) in London's formerly-deprived, now gentrifying Hackney borough. Leon is at the fringes of his brash, mouthy group of friends, yet he is the one to smash in a car window during an arresting, lively, opening sequence. Not-exactly-groundbreaking footage of Leon at the gym establish a pent-up anger for a young man whose life, as the title indicates, has been about acquiesance, one way or another.
The tension within Leon and his immediate surroundings finds a mirror in the police shooting of Mark Duggan in 2011, which led to the riots, and he watches events unfold on television as they inch ever-closer to his so-called home. He goes with his gang to a party in a white middle-class squat and encounters the beautiful Tiggy (Sophie Kennedy Clark) and her boyfriend Anton (Sam Gittins). There's a touching attraction between Tiggy and Leon, even though she's a cipher and he doesn't talk much; they spend the day on a barge on the River Lea where the city's noise is silenced and Leon finds some peace.
This is not a tale that was ever going to end well, although Jones tackles it in interesting ways. As the riots take hold of Leon's neighbourhood, there's an out-of-this world, end-of-days feeling; this could be anywhere. Sequences are lit by DoP Albert Salas through the flames and the smoke and, once the strange Tiggy/Anton element is dispensed for an old-fashioned dust-up with his mother's abusive boyfriend, the lost Leon tries to find his way through the riot, and his life, and the viewer wheels, disoriented, with him.
Police in riot gear are depicted to be often as vulnerable as the youths opposing them, who swing from violence to protest to opportunism. Music, supervised by Lol Hammond, is restrained and appropriate, never falling into the tropes of this kind of film. Ultimately, what the viewer is left with is two highly impressive lead performances from Rutherford and Miller and the strong sense that we haven't heard the last from them, or writer/director Jones either.
Production companies Beyond Fiction, Harvest Pictures
International sales: lm@widemanagement.com
Producers: Emily Jones, Ross Williams
Screenplay: Jamie Jones
Production design: Lotte Sana
Editing: Agnieszka Liggett, Emma Gaffney
Cinematography: Albert Salas
Music: Lol Hammond
Main cast: Marcus Rutherford, T'Nia Miller, Sophie Kennedy Clark, Sam Gittins, James Atwell