Ildikó Enyedi's striking, emotional drama explores the power of human connection in the unlikeliest of places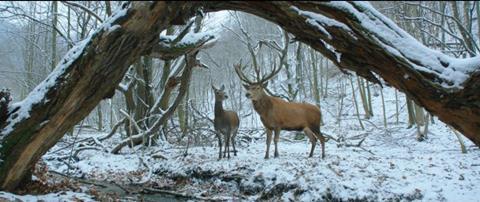 Dir/scr. Ildikó Enyedi. Hungary, 2017. 116 mins
The divisions between humanity and animality - and between flesh and the more rarefied aspects of what constitutes life - are picked over to appealingly poetic, if sometimes perplexing effect in On Body and Soul, by Hungarian writer-director Ildikó Enyedi.
The ensemble cast is terrific, with vivid, economically realised characterisations
The story of two damaged, solitary souls trying to make contact in a harsh, uncomprehending world is one of the oldest in the book, but delicate psychological insight, a strong aesthetic signature and two affecting, restrained performances by Alexandra Borbély and Géza Morcsányi overcome any familiarity, as well as occasional hints of preciousness.
A definite auteur item with strong emotional pull, this unconventional but highly accessible piece should guarantee Enyedi her biggest international exposure since 1989's broader-canvassed My Twentieth Century following its Berlin play In Competition.
The film begins enigmatically with shots of two deer in a snowy forest - creatures that return intermittently, in superb close-up footage that wouldn't shame an Attenborough documentary. The deer, a male-female couple, seem to represent some kind of intermediate point between humans and the cattle we next see being killed - Enyedi sparing us no harrowing detail - in a slaughterhouse where ageing, saturnine loner Endre (Morcsányi) presides as finance manager.
One day, Endre notices new arrival Maria (Borbély), a stand-offish quality inspector whose cold personality and by-the-book approach alienate all her fellow workers, despite drawing the attention of cocky, alpha male new recruit Sandor (Ervin Nagy). Maria is a pallid, glacial blonde beauty; so pallid, in fact, that she becomes virtually invisible within the faded hues of her apartment. It turns out that Maria is deeply damaged, unable to make physical contact with others, and the patient of a childhood therapist puzzled to see her returning for consultations as an adult.
A theft at the slaughterhouse causes police to pay a visit, with Endre being advised to call in staff for psychological appraisal by shrink Klára - a voluptuous object of fascination to Endre, and a terrific opportunity for a winning, subtly comic turn from Réka Tenki. In the sessions with Klára, it emerges that Endre and María have been sharing the same dreams; something that gets them tentatively sparking.
From this point, there's some delicate tragi-comedy ahead and no small amount of bleakness - along with a minor but undeniable degree of mawkishness; notably when María acts out her inner thoughts with the help of a pair of Playmobil dolls. The film's most considerable achievement, however, is to sustain its drama on a finely poised level of emotional intimacy, while sometimes hitting us with intense imagistic charges, not least the graphic slaughterhouse scenes at the start.
The visuals are consistently striking, with chromatic play between red and white echoing the colours of blood and muscle. Enyedi and DoP Máté Herbai make the most of considered geometric compositions that make the most of light and space, or that zero in - in acutely controlled shallow focus - on such details as a scattering of breadcrumbs.
The ensemble cast is terrific, with vivid, economically realised characterisations among the support players - notably, Zoltán Schneider as Endre's insecure colleague and, in a sweetly spiky cameo, Itala Békés as an elderly cleaner who knows a thing or two about sexuality and offers María some presentation tips.
The film walks a delicate line between generically life-affirming relationship drama and something rather more troubling and resonant, especially when it comes to the ethics of meat production (although the film hardly seems to strike a blow for the alternatives, with no-one mustering much enthusiasm for the factory canteen's veggie options). Music is spare, except for a slightly misjudged moment of comedy in a record store, and with a ballad by Brit folk chanteuse Laura Marling (a dead ringer for Borbély, by the way) eventually helping unfreeze María's glaciated soul.
Production companies: Inforg - M&M Film KFT
International sales: Films Boutique contact@filmsboutique.com
Producers: Monika Mécs, András Muhi, Ernő Mesterházy
Screenplay: Ildikó Enyedi
Cinematography: Máté Herbai
Production designer: Imola Láng
Editor: Károly Szalai
Music: Ádám Balázs
Main cast: Alexandra Borbély, Géza Morcsányi, Réka Tenki, Zoltán Schneider, Ervin Nagy