Documentary focuses on female voices raised in protest in Hong Kong and China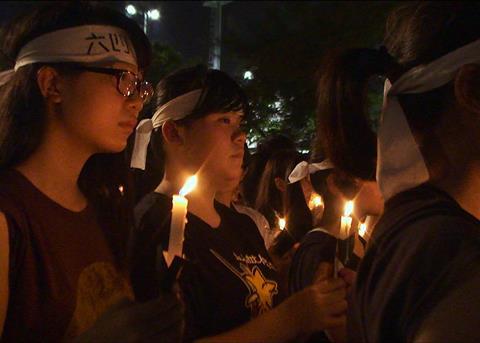 Dirs. Wen Hai, Zeng Jinyan, Trish McAdam. Hong Kong/China. 2020. 100 mins
Made over the course of eight years, Outcry And Whisper collects together a diverse array of female voices raised in protest in Hong Kong and China. With blogger and activist Zeng Jinyan, one of the film's three directors, taking centre stage, this collage of stories also draws in artists, dissidents and workers from all sections of a society which, as the film progresses, grows increasingly turbulent. A blend of interviews, archive material, fly on the wall footage and animation, the documentary is a mixture of styles and approaches which don't always gel. That said, there is no denying the cumulative power of these accounts of the female experience of oppression, in all its many guises.
…gives a ense that female voices will continue to be raised.
While the film lacks the focus and narrative thrust of Hooligan Sparrow, Nanfu Wang's propulsive portrait of a female activist, the two pictures share a sense of simmering, righteous anger and a forthright approach to human rights issues and manifold abuses of power. Outcry and Whisper will be attractive to programmers of festivals focused on female perspectives and of human rights themed events.
A lyrical animated opening sequence morphs layers of pastel portraits of women, their faces merging and blending: they are at once different and at the same time almost interchangeable. This is immediately followed by strikingly uncomfortable footage of a performance by the artist Zhao Yue. Shaven headed and composed, she sits cross-legged in front of a low table, on which is set a mirror. Then, slowly and purposefully, she takes a razor and starts to make precise cuts horizontally and then vertically on her forehead and cheeks. Soon her face is a mesh of blood. It's horrifying, this public act of self-harm. But this, and further, less confrontational pieces of performance art are presented without context. Using a work as brutal as this without exploring the artist's intentions, or even giving background details to the piece, feels like a curious omission.
Central to the film are the experiences of Zeng, a 30 year-old mother and wife who is under house arrest and surveillance in Hong Kong along with her daughter. We witness first hand the intimidation tactics of the authorities – burly men block her path, two cars and eight plain clothes officers are assigned to watch her. But perhaps more disturbing is her account of the campaigns of intimidation – sexual shaming, the targeting of her family. She is kept apart from her husband, Hu Jia, an AIDS and environmental activist.
Other strands explored in the film include the factory workers in China who protested when they were denied their basic rights by bosses who subsequently tried to make the women, largely uneducated migrant labourers from rural areas, reapply for their own jobs. Elsewhere, model employee Xiao Mei found herself demoted, placed under surveillance and then fined when she fell foul of her employers after offering advice to fellow workers about their rights.
Some sections could have done with a firmer hand in the edit; some struggle to make their mark. But, through a combination of animated segments anticipating the march of automated industry and edgy guerilla footage shot during the protests in Hong Kong, there is a sense that female voices will continue to be raised. And that hopefully they will be heard.
Part of the festival's Latitudes section, 'Outcry And Whisper' plays in www.visionsdureel.ch between April 25 and May 2

Production company: Zeng Jinyan and Wen Hai Production
Contact: Jinyanzeng@gmail.com
Producer: Zeng Jinyan
Cinematography: Jack Huang, Zeng Jinyan
Editing: Jack Huang, Trish McAdam
Animation: Trish McAdam
Music: Gary Sze
Main cast: Zeng Jingyan, Zhao Yue, To Yuek, Xiao Mei, Ai Xiaoming