Harrowing doc about Russian competitive gymnastics by Marta Prus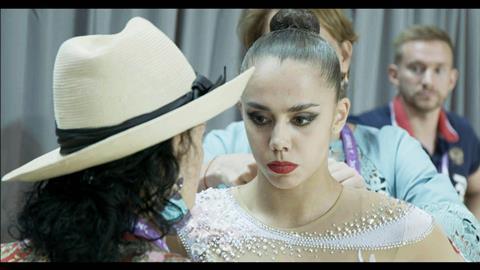 Dir/scr. Marta Prus. Poland/Germany/Finland. 2017. 73 min.
Of all its substantial merits, Marta Prus' harrowing and thoroughly captivating sports doc Over The Limit is perhaps most surprising for its sustained bouts of misdirection. A former gymnast herself, the documentarian delivers the requisite expressions of passion, prowess and pain over a film that took five years to shoot. What is unexpexted is such guileful slight of hand. For these reasons and more, this terse portrait of Russian athlete Margarita Mamun will likely remain a hot ticket item with documentary programmers for the foreseeable future.
A tightly wound, painstakingly structured 73-minute documentary
The narrative follows the 20-year-old competitive gymnast to elite competitions in Russia, France, Israel, and Brazil, though you wouldn't know it from any change in scenery. Prus' unwavering camera remains fixed on the athlete as she cycles between competition floors and practice gymnasiums that all look more or less the same, no matter where they're located.
Which is precisely the point, of course. For at least the first half of this tightly wound, painstakingly structured 73-minute film, we never once leave a world of fluorescent lights and polished floors, our only indication of a life outside the sport comes when Mamun facetimes her boyfriend – while running on a treadmill.
Hers is a life of failure, repetition, and abuse, all caught in vivid, crystalline images from cameraman Adam Suzin. Prus forgoes interviews or overt musical cues for a more or less direct cinema accounting of Mamun's rigorous practise regime, and yet the film does benefit from a continuous soundtrack of sorts, here supplied by the wall-to-wall invective spewed by her trainer Irina (full name Irina Viner-Usmanova, head of the Russian national team and wife of the richest man in the country, though the sinewy film never offers any of this superfluous information, which is exactly part of its game).
Like a pint-sized Joe Pesci, Irina hovers in along the sidelines, pointing out every flaw and misstep while exhausting all imaginable iterations of profanity.
The coach's violent appraisals, the seemingly constant mistakes and the clear exhaustion in Mamun's eyes essentially trains viewers to view the athlete in a poignantly unsuccessful light until the director pulls back to allow a sliver of outside context, completely upending the situation. A shot from the inside of Mamun's Moscow apartment stuns like a mid-film plot-twist, as the almost comically inordinate number of medals, trophies and life-sized posters reminds the viewer that they are watching one of the most decorated and accomplished athletes in her field.
Such is not the only instance of misdirection in a film that puts viewers in the tortured headspace of a gymnast already better than ninety-nine percent of her peers as she struggles to bridge that final, impossible gap.
Even as she endlessly repeats the same drills, the world keeps turning. When Prus reveals that Mamun's father is suffering from cancer, the director then cuts to the irascible trainer, who simply says, "pretend you're a different person with a different name." She later follows up, "you're not a human being, you're an athlete." Prus finally leaves it up to the viewer to decide whether this kind of sangfroid approach is worth it or not, closing on a series of end titles that hit like grim punchlines.
Production companies: Telemark, Ventana Film, Marianna Films
International sales: AUTLOOK Filmsales, movingdocs@edn.network
Producers: Maciej Kubicki, Anna Kępińska
Executive producer: Anna Wereda
Cinematography: Adam Sebastian Suzin
Editor/Sound designer: Maciej Pawlinski
Featuring: Margarita Mamun, Irina Viner-Usmanova, Amina Zaripova