Alone in Athens, an Iranian couple searches for an absent son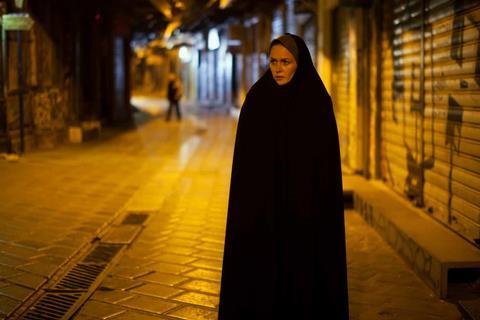 Dir/scr: Siamak Etemadi. Greece, France, Netherlands, Bulgaria. 2020. 101 mins
Dutiful Iranian wife Pari (Melika Foroutan) and her much older husband Farrokh (Shahbaz Noshir) arrive in Athens to visit their student son Babak. But not only is he not waiting to greet them at the airport, he is no longer living at the address he gave them. Equipped with only faltering English and a mother's determination, meek Pari is forced out from the shadow of her spouse to take the lead in the search for her child. The feature debut from Iranian Greek director Siamak Etemadi, Pari is an atmospheric dual portrait: of a woman who discovers hitherto unsuspected depths and courage, and of an unsettled, unpredictable city which strips her residents of their certainties and safety nets.
A vivid portrait of a woman who has stripped away everything she thought she was
Of the two, it is Pari, as portrayed by the mesmerising Foroutan, who is the film's main asset. Her mercurially expressive performance is a grounding element in a film which blinks between realism, symbolism and lyricism and back again. With its meditative, poetic reveries transposed onto a thriller premise, this is a film which confounds easy categorisation and as such, might be best suited to the adventurous and open audiences of further festivals.
Etemadi threads excerpts from a 13th-century Persian poem, 'The Centre of the Fire' by Jelaluddin Rumi, through the film. This, found ripped from the pages of a book and scrawled with an anarchy symbol, is one of Pari's only connections with her missing son. The words of the verse are read by Pari in a sparse voice-over, but the themes – "Fire is my child but I must be consumed and become fire" – inform the picture's visual symbolism. The children of the city of Athens are burning up the streets in protest. And as Pari runs after an elusive shadow that might be Babak, she too catches alight, shedding her smouldering chador and in the process peeling off the layers which have shaped her into a good, observant wife to a husband who married her to save her honour.
That Farrokh is not Babak's biological father is a fact which is crucial to our understanding of Pari's dilemma, caught between the expectations of her dour husband and the appetite for escape which drives her son. Ultimately, it is the bond with Babak which seems stronger – she shares his fascination with the wildness and danger of the kind of freedom which is offered by the city of Athens.
In shots which are saturated with single colours – night times drenched in sulphurous yellows or scorching orange; a church interior which is tainted with an unnatural greenish pallor – Etemadi draws Athens as a place full of threat and uncertainty for a couple who have never before left their home country. The idea of rebellion is writ large, in the daubed slogans and graffiti on every wall. A woozy, off-kilter camera adds to the sense that Pari and her husband are unbalanced by the world in which they find themselves.
Not everything works. Collaged mini-flashbacks, Pari's replayed memories, are a little clumsy. And the film's conclusion is something of a leap, even taking into account Pari's emancipation through desperation. Still, it's a vivid portrait of a woman who has stripped away everything she thought she was and has the chance, perhaps, to start a new life.
Production company: Heretic
International Sales: Heretic Outreach ioanna@heretic.gr
Producers: Konstantinos Kontovrakis, Giorgos Karnavas
Editing: Panos Voutsaras
Cinematography: Claudio Bolivar
Production Design: Wilbert van Dorp
Music: Avia
Main cast: Melika Foroutan, Shahbaz Noshir, Sofia Kokkali, Lena Kitsopoulou, Argyris Pantazaras, Dimitris Xanthopoulos