Laetitia Dosch and Sergei Polunin headline this adaptation of the 'autofiction' novel by Annie Ernaux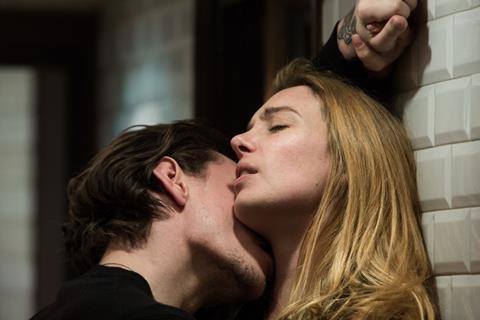 Dir. Danielle Arbid. France/Belgium. 2020. 99 mins.
Passion is never out of fashion in French cinema, especially when a certain self-destructive component is involved. But France has been more committed than any other nation to giving amour fou a specifically female spin, in film and in fiction, not least in confessional 'autofiction' works by Annie Ernaux, whose 1991 novel is the basis for the latest film by Lebanese director Danielle Arbid (In the Battlefields, Parisienne). A Cannes label film now playing in Toronto and San Sebastaian, Passion Simple is a compelling, formally adventurous drama highlighting a superb performance by Laetitia Dosch.
The film's appeal will be largely based on its sexual frankness, especially in the depiction of female pleasure
Dosch (2017's Jeune Femme, a.k.a. Montparnasse Bienvenue) is paired here with the less convincing Russian ballet star Sergei Polunin in a (perhaps expressly one-dimensional) art-hunk role, and is seriously hamstrung by a leadenly unimaginative pop soundtrack that undermines the film's claim to more trenchant edginess. While hardly avant-garde, the film displays considerable audacity, sexual and formal, but also a certain lifestyle glossiness – an uneasy balance that is likely to undermine its appeal either to the more discerning art-house crowd or to the niche sector of more mainstream Francophiles.
Dosch plays Hélène, a Parisian academic specialising in the life and work of English 17th-century playwright Aphra Behn. First heard in voice-over and seen in extreme close-up at night, then speaking direct to camera, she fills us in on the start of her passionate affair with a man first encountered at a dinner party in Oporto – an affair that has come to preoccupy her to an obsessive and eventually morbid degree.
Her lover is Alexandre (Polunin), a younger married man about whom we learn little, except that he works at the Russian Embassy. Alexandre sees Hélène when he chooses, leaving her to wait for his calls and his visits to her lavishly appointed modernist house, where they have intense bouts of raw sex, but say very little to each other – something largely down to his moody taciturnity. Hélène might seem the loser in this relationship – especially when the macho Alexandre rebukes her for dressing too sexily. But Hélène, divorced with a young son, Paul (Lou-Teymour Thion, playing it nicely perplexed), is absolutely sold on the affair, as she tells her friend Anita (Caroline Ducey, presumably cast in a nod to her lead role in Catherine Breillat's similarly themed Romance).
Threads start to unravel when it becomes clear that the besotted – and eventually abandoned – Hélène is starting to behave erratically, even dangerously. She neglects Paul (cleverly introduced in a shot where he remains off-screen), seems oblivious to anything except the prospect of another bout with Alexandre, even visits Moscow just, she says, to breathe the same air he does. Eventually her ex (the ever-dependable Grégoire Colin) has to intervene and read her the riot act.
While cinematic interest in explicit sex has waned since the time of Breillat's breakthrough success, the film's appeal will be largely based on its sexual frankness, especially in the depiction of female pleasure, and in this respect, Passion Simple is carried largely on the shoulders (and thighs, and backsides) of its lead duo. Polunin's physical expressiveness as a dancer and Dosch's background in experimental theatre mean that they carry off the intensity of their nude scenes with unrestrained candour, in a way unimaginable in Anglo-American cinema. In particular, Dosch's ease before the camera means not just that her physicality is eloquent, but so is her restrained range of facial signals, with enigmatic close-ups allowing us to gauge Hélène's thoughts and feelings when the character reflectively turns in on herself.
Arbid tells her story in fragmentary fashion, sometimes seeming to proceed free-associatively – with a clip from Alain Resnais's Hiroshima Mon Amour both suggesting a stylistic model and introducing a discussion of the question of women's desire in film. An elusively fluid time scheme and use of visual devices such as extreme close-ups and superimpositions of Hélène's face over reflections in glass make this a moderately experimental film – although a distinct glossiness (the splendour of Hélène's house, interpolated visits to both Moscow and Florence) makes for a bourgeois-chic aesthetic closer to Lelouch, say, than to Godard.
Another serious flaw is the use of a by-numbers soundtrack that runs from the Gallic breeziness of Gilbert Bécaud singing Aznavour, through Leonard Cohen, to a bathetic closer in the Flying Pickets' 'Only You' (on the plus side, we also get Suicide's 'Cheree Cheree' and a strong Dylan cover by Linda Vogel).
Arbid's script – presumably based closely on the textures of Ernaux's writing – gives lucidity to the spare account of Hélène's experience, going some way to mitigating the cardboard presentation of Polunin's sullen, steely-eyed dream stud. A more plausibly fleshed-out Alexandre, however, might have diluted the intense focus on Hélène's interiority, although the result of the lead duo's imbalance is at least to make this all the more a triumph for Dosch's fearless and subtle performance.
Production companies: Les Films Pelléas, Versus Production
International sales: Pyramide International, amauruc@pyramidefilms.com
Producers: David Thion, Philippe Martin
Screenplay: Danielle Arbid
Based on the novel by Annie Ernaux
Cinematography: Pascale Granel
Editor: Thomas Marchand
Production design: Charlotte de Cadeville
Main cast: Laetitia Dosch, Sergei Polunin, Lou-Teymour Thion, Caroline Ducey, Grégoire Colinthu