Dir, Morgan Spurlock. US, 2016, 88 mins.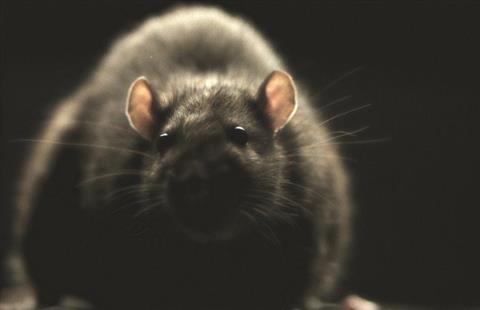 Most decidedly not for the squeamish, Morgan Spurlock's documentary Rats is framed as a horror film and just as effective as anything else you'll see this Hallowe'en. Set for transmission in the US in October via the Discovery Channel, it functions very well as a big-screen ticket for those brave enough to venture forth. Put it this way: you'll make sure the toilet seat is firmly shut when you're in New York City – or anywhere else – from now on.
Thanks to editor/composer Pierre Takal's flashing-red Psycho vibe, you practically feel as if you're being pawed by the production.
One of Spurlock's talking head experts – ranging from ratcatchers to exterminators, scientists and historians – believes the human race is "hardwired to avoid thinking about these animals". If that's truly the case, Spurlock's documentary is the ultimate in confrontation therapy as hordes of the rodents are dissected, eaten, and, quite literally, torn apart (by English terrier "ratter dogs"). Scenes where New Orleans scientists remove all sorts of hideous infectious agents from a rat's skin, including a still-pulsing nest of fly larvae, are watch-between-your fingers awful.
All accompanied by editor/composer Pierre Takal's flashing-red Psycho vibe, and Rats is a pretty unforgettable, uber-queasy experience where you practically feel as if you're being pawed by the production.
Anchoring the action is hard-bitten New York exterminator Ed Sheehan, who started killing rats in 1967 and has a few pearls of wisdom to dispense. He's captured by Spurlock sitting in a basement, smoking a cigar: "If they jump out, I'm jumping back," he says, confirming the urban legend that rats are "diabolically clever" and that there's at least one for every one of "trashopolis" New York's 8.2m inhabitants – as they breed five or six times a year with 8-12 rats in a litter, perhaps that's not entirely surprising.
"I've seen them in the graveyard and I wonder what they're eating," he concludes, suggesting we're fighting a losing battle with the disease-carrying vermin.
Why should we fear rats? A quick jump from New York to post-Catriona New Orleans where we meet evolutionary biologists leaves the viewer in little doubt. Scuttling Leptospirosis plague-bearers are demonstrated to be the carriers of the most awful parasites in every part of their body, from lung tissue to their skin. In a way, it's almost a relief to leave the pristine labs of Louisiana and head to the slums of monsoon-ridden Mumbai where, bereft of rubber gloves or even shoes, the ratcatchers go out at night with their nets to dispense with their prey by hand.
Spurlock particularly relishes the juxtaposition of these sequences with those shot in Kandal Province, Cambodia, where rats are caught and delivered fresh to the restaurant tables of Vietnam – stir-fried or BBQ rat, anyone?
Rats are, in the experts' estimation, one of the most successful species on the planet and, if they are right, we should guard our position at the top of the food chain more carefully. After a grim interlude on a hunt in the English countryside, Spurlock leaves us in India, where the 600-year-old Karni Mata Hindu temple is home to 35,000 rats, all of them believed to be reincarnations. As they and their custodian drink from the same bowl of milk ("they are my family"), it's an appropriately squeamish end to a nightmarish film. With Spurlock and Takal throwing every horror trope on the screen, Rats is a delectably awful experience which, grimly fun though it may be to watch, hopefully won't lead to a Cockroach sequel.
Production companies: Warrior Poets, Discovery Channel
International sales: Submarine
Producers: Morgan Spurlock, Jeremy Chilnick, Suzanne Hillinger
Executive producers: David Koh, Josh Braun, Dan Braun, Stanley Buchthal
Screenplay: Morgan Spurlock, Jeremy Chilnick, based on Rats by Robert Sullivan
Cinematography: Luca Del Puppo
Editor/composer: Pierre Takal