Dir: Jonathan Demme. US. 2015. 100mins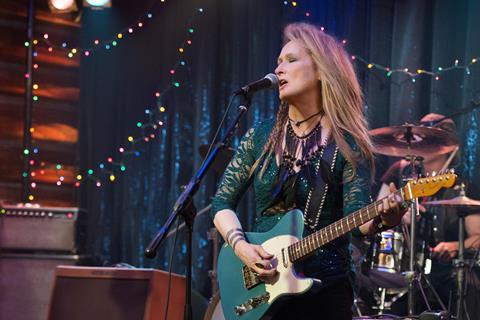 Though the marketing campain makes it look like a cheesy comedy built round the novelty casting of Meryl Streep as an ageing rocker, Ricki And The Flash is actually something much more appealing: a breezy but touching dysfunctional family dramedy, with real heart and some genuine musical soul. Driven by Streep's perennial star power, this feel-good-ish tale from writer Diablo Cody and director Jonathan Demme could end up becoming one of the summer's baby boomer hits.
Streep makes her tricky character entirely believable and finds just the right balance between funny/sad and broad/subtle
Female boomers will certainly be the core audience when Sony opens the film wide in the US and Canada on August 7, after it kicks off proceedings at the Locarno Film Festival on August 5. But interest from a wider demographic could help make this another entry in Streep's decade-long run of summer successes (from The Devil Wears Prada, through Mamma Mia! and Julie & Julia to Hope Springs).
Representing a move away from the edgier ground Cody has covered since winning an Oscar for Juno, Ricki And The Flash starts out in the low-rent but homely Los Angeles bar where Streep's guitar-slinging title character and her band The Flash ply their trade. Long after leaving her husband and kids in the Midwest to follow her rock dream, Ricki is struggling to make ends meet and keeping up a half-hearted romance with Flash lead guitarist Greg (played by former soap star and eighties rocker Rick Springfield).
When a family crisis calls her back to Indiana for the first time in years, Ricki starts trying to make things right with her stuffy but kindly husband (Kevin Kline, previously teamed with Streep in Sophie's Choice), her antagonistic daughter (Streep's real life daughter Mamie Gummer, from TV's The Good Wife) and her two grown sons.
Demme (who since 2008's Rachel Getting Married has been making mostly music and theatre performance films) efficiently hits the comedic notes suggested by the clash between Ricki's free spirit and her family's smouldering resentment. The film works better, however, when it turns more serious, thanks largely to Streep's performance and the unusually effective use of music.
Streep makes her tricky character entirely believable and finds just the right balance between funny/sad and broad/subtle in Ricki, whose unapologetic sense of self doesn't stop her loving the children she left behind or seeing the good in her wary ex-husband.
The music – covers of sixties and seventies classics, a few more recent hits and one original song – sounds a little slick for the bar band The Flash is supposed to be, even though it was played live for the film by Springfield, a couple of well known session men and Streep herself.
But the musical performances have an authenticity and vitality (the cinematographer is Declan Quinn, who shot Demme's recent trilogy of Neil Young performance films) that make them dramatically effective as well as credible. Streep and co manage to breathe life (and narrative purpose) into rock-soul chestnut Drift Away, for example, and they cap the film's climactic wedding scene with a rousing version of Bruce Springsteen obscurity My Love Will Not Let You Down.
Production companies: TriStar Pictures, LStar Capital, Badwill Entertainment
Worldwide distribution: Sony Pictures
Producers: Diablo Cody, Mason Novick, Marc Platt, Gary Goetzman
Executive producers: Lorene Scafaria, Ben Waisbren, Ron Bozman, Adam Siegel
Screenplay: Diablo Cody
Director of photography: Declan Quinn
Production designer: Stuart Wurtzel
Editor: Wyatt Smith
Website: www.rickiandtheflashmovie.com
Main cast: Meryl Streep, Kevin Kline, Mamie Gummer, Audra McDonald, Sebastian Stan, Ben Platt, Rick Springfield