A young Turkish boy dreams of riding to the moon by bicycle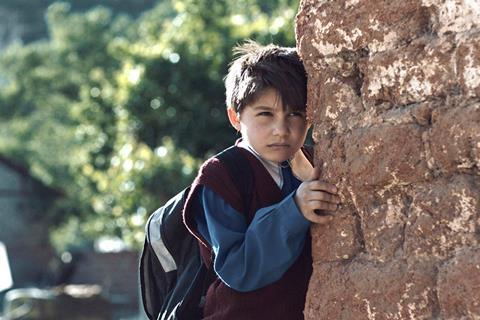 Dir/scr: Abdurrahman Oner. Turkey. 2018. 106mins
A Turkish childhood is brought alive to poignant if ultimately lightweight effect in Abdurrahman Oner's debut feature Road To The Moon (Aydede). A repetitive structure leaves the film — something of a small-town Turkish 400 Blows — treading water at times, but whole-hearted performances from its young cast, notably lead juvenile Bilal Zeynel Celik, make for a lively watch. The film should have solid appeal, especially for festivals with a childhood angle.
Celik gives a spirited performance that makes his sometimes abrasive character sympathetic and compelling
Road To The Moon begins with a sequence that is, somewhat arbitrarily, more stylistically flamboyant than what follows, trailing a young boy, Bekir (Celik), through a cemetery to the spot where his grandfather is being buried. Rather than tell him his grandpa is dead, Bekir's widowed mother Rabia (Ezgi Mola) says the old man has gone to the moon — something Bekir seems too old to credit, although it sticks in his imagination, particularly when he is watching TV and sees a lunar journey in 1983 Turkish film Badi, a palpable ET: The Extra-Terrestrial knock-off.
Throughout, the film alternates between Rabia's problems and Bekir's life at school. The boy and his friend Hasan (Emirhan Ates) are obsessed with collecting football cards in order to buy a bike, while Bekir is also besotted with a pretty classmate. Both preoccupations lead him into conflict with other boys, and with his no-nonsense teacher. Meanwhile his debt-ridden mother faces troubles with her inheritance, as her older sister tries to corner her into a settlement that would be disadvantageous for Rabia. On a more hopeful note, Rabia is keen on local mechanic Osman (Mehmet Ozgur), with her mother (a nicely knowing performance by Aysenil Samlioglu) giving sly encouragement.
The film's main problem is structural, lying in a rather mechanical alternation between Rabia and Bekir's strands. And, while the children's performances are lively and unrestrained all round, there is a little too much stridency at times. Repeated shots of small-town streets make for a claustrophobic feel, relieved only in a highly dramatic payoff that comes across as a touch contrived.
But as Bekir, Celik gives a spirited performance that makes his sometimes abrasive character sympathetic and compelling. Mola holds the show together as a vulnerable woman soldiering on under mounting troubles — although in a traditionally demure fashion that will not endear the film to contemporary feminist-attuned audiences.
Production company: Buhar Film
Sales contact: Buhar Film, info@buharfilm.com
Producer: Arzu Senses Oner
Production design: Elif Tascioglu
Cinematography: Meryem Yavuz
Editing: Abdurrahman Oner.
Main cast: Ezgi Mola, Bilal Zeynel Celik, Aysenil Samlioglu, Emirhan At