Sebastian Schipper follows up 'Victoria' with this story of a British teen who embarks on a risky roadtrip with a Congolese illegal immigrant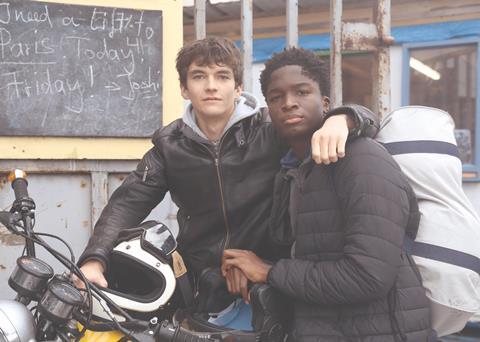 Dir/scr: Sebastian Schipper. Germany. 2019. 98mins
Fionn Whitehead and Stéphane Bak make a plucky pair in Roads, a spirited and sensitive coming-of-age drama about two vulnerable young lads who run away together from Morocco to France. In his first feature since 2015's Berlinale Silver Bear winner Victoria, actor-turned-director Sebastian Schipper — who co-writes with Oliver Ziegenbalh — abandons the all-night, single-take antics of that film for a different kind of energy. Roads is always on the move, be it by camper van, ferry, electronic bike or motorcycle, but it's the yearning of its two protagonists that gives the movie its restlessness. Fans expecting the same freneticism as Victoria might be disappointed but, with its empathetic and insightful core, minor art house play seem assured.
Particularly astute is Roads' observation about race, class and the space (or lack thereof) that society affords various groups caught on the margins
Roads finds parallels between the 18-year-old Gyllen's (Whitehead) rebellion and the plight of 17-year-old Congolese refugee William (Bak) urgently trying to find his missing elder brother. Holidaying with his mother, stepfather and sister, Gyllen steals the family campervan but doesn't really know how to drive it. First viewing the British boy's misfortunes from afar while trying to evade the authorities, William (Bak) offers assistance.
With the aim of finding Gyllen's father (Ben Chaplin) in France, the new friends team up with an unscrupulous German (Moritz Bleibtreu) to cross the Morocco-Spain border, get bogged by the sea, indulge in illicit substances and lend other refugees a hand. The usual cliché applies — it's the journey, not the destination, that matters — but Roads' characters are so convincing that the film never feels quite as formulaic as it sounds.
As the self-dubbed "team crazy, risky, stupid" go through their predictable ups and downs, Roads makes some astute observations about race, class and the space (or lack thereof) that society affords various groups caught on the margins. The defiant Gyllen can cause scenes, pick fights and suggest risky ploys, but these are all actions that are grounded in his inner turmoil. As an undocumented immigrant sneaking across several countries, however, the pensive William can't even allow himself to become angry when the pair are scammed or treated poorly.
Thanks to Dunkirk, The Children Act and Black Mirror: Bandersnatch, the talented Whitehead is fast becoming a compelling dramatic force, and he plays another determined but desperate figure with conviction. Best known for Elle thus far, Bak's internalised turn is no less impressive. The lurching uncertainty driving and uniting their tumultuous teens is tenderly conveyed, and the more the duo are drawn to each other, finding solace in their unlikely friendship, the more that viewers are drawn into their story.
As shot by Matteo Cocco, Roads eschews travelogue sights and colours, instead giving a clear-eyed, slightly jittery view of life on the open road. Still, when there's beauty to be found — sprawling behind Whitehead in a memorable opening shot, or peering at Whitehead and Bak's expressive faces in the heat of deep and meaningful chats — the film finds it, just like its characters.
Production company: Missing Link Films
International sales, HanWay Films, tg@hanwayfilms.com
US sales: HanWay Films/CAA, Nick Ogiony nick.ogiony@caa.com
Producer: David Keitsch, Sebastian Schipper
Screenplay: Sebastian Schipper, Oliver Ziegenbalg
Cinematography: Matteo Cocco
Editing: Monica Coleman
Music: The Notwist
Production design: Chloé Cambournac
Main cast: Fionn Whitehead, Stéphane Bak, Moritz Bleibtreu, Ben Chaplin