A live-in nurse believes she is on a divine mission from God in this powerfully individual debut from Rose Glass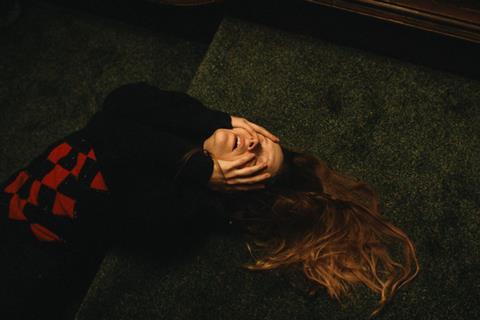 Dir/scr. Rose Glass. UK. 2019. 84mins
There are moments when, appropriately enough, religious-themed chiller Saint Maud requires its audience to take a leap of faith. But, a few outré flourishes apart, this powerfully individual debut from Rose Glass – an NFTS graduate and 2018 Screen Star of Tomorrow – is horror in a restrained, strictly psychological vein, charting the gradual breakdown of a lonely young woman convinced that she is on a divine mission.Featuring a terrific performance from Jennifer Ehle and a bold, quietly nerve-shredding lead from Morfydd Clark, this is a hugely individual, distinctly British piece of genre-tweaking with a strong female focus and clear potential to cross borders between arthouse and upmarket horror sectors.
The film's classiness lies in the way that, by and large, it sticks to purely psychological unease
Among other things, the film is a striking showcase for Clark, whose CV includes Whit Stillman's Love & Friendship, recent gator thriller Crawl and Armando Iannucci's David Copperfield, also in Toronto this year. Clark plays Maud, a young nurse first seen experiencing a nightmarishly gory shock– although blood is largely absent from the more interior horrors that follow. Maud lives alone in a dingy room in an English seaside town (an atmospherically shot Scarborough) and works as a private carer following an episode, gradually revealed in hints, that has led to her leaving hospital work. Maud, it is revealed early on – partly in a convincingly pitched voice-over – is obsessively religious, a recent convert who believes that God talks to her directly, and has a special purpose in mind for her.
For much of its admirably concise running time, the film is essentially a claustrophobic chamber piece, as Maud becomes live-in nurse supplying palliative care to Amanda (Ehle), a famous dancer and choreographer now terminally ill and living in reclusion in a cavernous house. The prickly, cynical Amanda surprisingly warms to Maud's artless devotion, and Maud decides that her divine purpose is to save this 'lost soul'. But Maud's possessiveness, and her hostility towards Amanda's lover Carol (a boldly charismatic Lily Frazer), lead to a crisis that sends Maud into an extended dark night of the soul, wandering – like a latterday version of the Mary Magdalene she wears on her necklace – among the neon-lit fleshpots of the town's waterfront.
The film's classiness lies in the way that, by and large, it sticks to purely psychological unease and to a realistic depiction of Maud's mentally and economically distressed world, superbly evoked in Paulina Rzeszowksa's production design and in Ben Fordesman's camerawork, which just occasionally adds expressionistic touches to a register that generally steers closer to the everyday. Rather than weigh things down with too much pathological case history, Glass adroitly lets us guess at the background of a woman who, as revealed partly in encounters with a former co-worker (Lily Knight), once lived a very different life. Glass also achieves a delicate balance in taking Maud's religious conviction seriously, while sensitively portraying the mental disturbance that drives it.
The film astutely uses religious imagery to get inside Maud's head – not least, the illustrations of William Blake – but it is just as skilful in portraying Amanda, whose art has stood for the freedom of the female body, making her current near-immobility all the more painful. While the story is clearly set in the present, production design, costumes and hairstyles subtly blur markers of the period, with hints of the 60s and 70s. This teasing indeterminacy gives the film a timelessness that also accentuates its echoes of Roman Polanski's Repulsion; and indeed, Clark gives a performance that is as bold, and as vulnerably isolated, as Catherine Deneuve's in that film.
Where Glass arguably overplays her hand is in those few moments where the film briefly lurches into more generic horror mode; these incidents are clearly readable as the product of Maud's delusion, although the effect jars with the painstakingly established overall tone. Even so, whatever credit Glass may lose here is recouped in an audacious payoff, making Saint Maud score strongly both as horror and as a surprisingly moving study of a troubled soul.
Production companies: Escape Plan, Film Four, BFI
International sales: Protagonist Pictures, info@protagonistpictures.com
Producers: Oliver Kassman, Andrea Cornwell
Cinematography: Ben Fordesman
Editor: Mark Towns
Production design: Paulina Rzeszowksa
Music: Adam Janota Bzowski
Main cast: Morfydd Clark, Jennifer Ehle, Lily Frazer, Lily Knight