This bittersweet cancer comedy from Macedonia finds its humour in dark places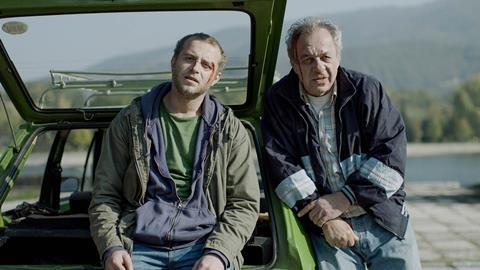 Dir/prod/cine: Gjorce Stavreski. Macedonia, Greece. 2017. 104 mins
Aggressive lung cancer, bereavement, a blighted health infrastructure, vengeful drug dealers: Macedonian director Gjorce Stavreski's feature debut finds humour in some pretty dark places. A son whose father is is dying of cancer struggles to afford the spiralling medicine costs. But when he happens upon a stash of drugs, he decides to dose his dad with medicinal marijuana in cake form. The treatment is unexpectedly successful, but it draws the attention both of local pensioners looking for a medical miracle, and the rightful owners of the drugs. Although on the surface, this is a crime caper, the film works most satisfyingly as a study of the abrasive but loving relationship between father and son.
The comedy is underplayed, with the kind of deadpan naturalism commonly found in Romanian New Wave pictures
Secret Ingredients premieres in the first feature competition of Tallinn Black Nights Film Festival having garnered two international awards in pre-production: EAVE Scholarship Award at WEMW Pitching Forum in Trieste and a nomination for VFF Highlight Pitch Award at Berlinale Talent Project Market. The combination of wry humour and stoner themes should make it a popular title going forward on the festival circuit. And while a Balkan cancer comedy might not be the easiest sell for prospective distributors, some theatrical interest is not out of the question.
Central to the film is a very likeable performance from Blagoj Veselinov as Vele, the only surviving son of Sazdo (Anastas Tanovski). Illness has taken the fight out of Sazdo, but he is just about well enough to haul his pain-wracked body down to the basement with a shotgun and the intention to finish himself off once and for all. His rationale for choosing the basement was that "It would be easier for you to clean up the mess." Vele, who manages to intervene before his father gets the faulty gun to work, is at his wits end. His wages, from a job as an engineer at a railway yard, are four months late, and his father's pain medication is prohibitively expensive. Then he finds the package of drugs.
After a failed attempt to sell the gear to make money for medicine, Vele scours the internet for space cake recipes and cooks up a batch. The change in Sazdo is remarkable. Suddenly, he is back to his old cantankerous self, barking impatient orders, and chain smoking. But despite Vele's pleas, he can't keep his cake-based miracle cure to himself, and word spreads. Meanwhile, it becomes clear that it's not just the cancer that is eating up Sazdo, but also the grief over the traffic accident that killed his wife and older son.
The comedy is underplayed, with the kind of deadpan naturalism commonly found in Romanian New Wave pictures. Locations – all weeping concrete, rust and decay – are evocatively used. Particularly effective is the glumly picturesque derelict caravan park which serves as the backdrop for the film's climax. And if that climax is defused a little too easily, it's hard to begrudge this disarmingly amiable film its use of a convenient narrative shortcut.
Production companies: Fragment Film, GRAAL S.A
International sales: Wide infos@widemanagement.com
Cinematography: Dejan Dimeski
Editor: Martin Ivanov
Music: Branislav Nikolov, Pece Trajkovski, Goce Jovanoski
Main cast: Blagoj Veselinov, Anastas Tanovski, Aksel Mehmet, Aleksandar Mikic