A disorienting, accomplished psychological drama about a new father grappling with superstition and guilt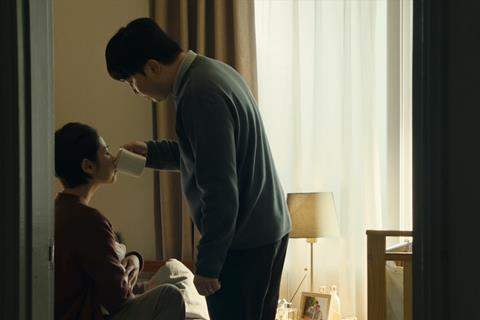 Dir/scr: Park Kang. South Korea. 2021. 102 mins.
A first-time father experiences a bad case of the "baby blues" in Korean writer-director Park Kang's engrossingly steely feature-length directorial debut Seire. Named after the three-week period during which, according to traditions, a newborn is especially vulnerable to misfortune, the film balances psychological probings and potentially supernatural elements in deliberately disorienting and accomplished fashion. Premiering in the New Currents competition at Busan, Kang's well-crafted calling card will benefit from ongoing global interest in his country's cinema, and should also land berths in festivals oriented toward fantasy and horror.
Kang and his team take banal situations and settings and render them just eerie enough to be unsettling
While produced by Korea's National University Of Arts, and therefore technically a "student film," Seire — like Alexandre Koberidze's Berlinale breakout What Do We See When We Look At The Sky? — proves that the previously amateurish connotations of that label are often misleading. This is a professionally slick affair from top to bottom, with the contributions of cinematographer Gyeong-hyeon Hwang, production designer Seong-hyun So, composer Young-gyu Jang and editor Jee-hee Han belying the quartet's relative inexperience.
Using simple means, Kang and his team take banal situations and settings — much of the action unfolds in a city-centre apartment building — and render them just eerie enough to be unsettling. The widescreen camerawork by Hwang (who previously shot Young-ju Park's 2018 indie Second Life), full of muted hues, fluent tracking shots, subtle zooms and quietly striking evocations of nocturnal urban spaces, is a consistent plus.


Kang's screenplay is scattered with dream sequences, day- and nightmares, visions, flashbacks and maybe even hallucinations, cumulatively conjuring the delicate mental state of mild-mannered thirtysomething Woo-jin (Hyun-woo Seo). Woo-jin and his partner Hae-mi (Eun-woo Sim) are adjusting to life with new arrival I-su; Hae-mi relies heavily on superstitions relating to new babies — in particular the "seire" period, during which only parents and grandparents should even be in the same room as the tot. 


Even Hae-mi's sister (Eun-min Ko) and and her husband (Woo-kyum Kim) — whose apartment lies directly across the landing — are excluded, the former coincidentally learning of her own pregnancy only days after her sister gave birth. But rational-minded Woo-jin pays little heed to seire-related matters. He even breaks a particularly strict "taboo" by attending the funeral of his former partner of six years, Se-young (A-bel Ryu), where he encounters the deceased's identical twin sister Ye-young (also Ryu). 


Revelations about Se-young's death and life gradually emerge as the film progresses, slotting together as oblique jigsaw-puzzle fragments until the whole picture — plus the complexities of Woo-jin's character and the origins of his long-buried guilt regarding Se-young — finally become clear in the satisfying climax.
A certain degree of patience is required to navigate the screenplay's twists and turns. Seire relies heavily on increasingly sinister repetition (the bisecting of apples is a recurrent trope throughout), confusing doublings and cunningly disguised dream-sequences — Park's 2018 short Deal was even more dream-focused — whose steady pace occasionally slides towards lethargy. Also, there are some bizarre but pivotal plot details involving carp-derived tonic drinks whose variations can apparently improve the chances of conception or miscarriage (the latter is "in trend these days," as the cheery proprietor of the mysterious carp-tonic emporium informs Woo-jin). 


The film takes such unlikely properties at face value, and indeed overall functions as a surprisingly ringing endorsement of superstitions and their associated rituals such as the seire — even if they provoke adherents and believers into absurd behaviours as they seek to fend off bad luck and malign forces. Such elaborate shenanigans do at least provide welcome touches of dark humour in what is generally a downbeat exercise in oneiric creepiness. 

Production company: Korea National University Of Arts (K-Arts)
International sales: M-Line Distribution, sales@mline-distribution.com
Producer: Yoon-joo Rhee

Production design: Seong-hyun So
Editing: Jee-hee Han

Cinematography: Gyeong-hyeon Hwang

Music: Young-gyu Jang

Main cast: Hyun-woo Seo, Eun-woo Sim, Eun-min Ko, Woo-kyum Kim, A-bel Ryu