Lena Dunham shows she hasn't mellowed in the frustratingly-uneven 'Sharp Stick'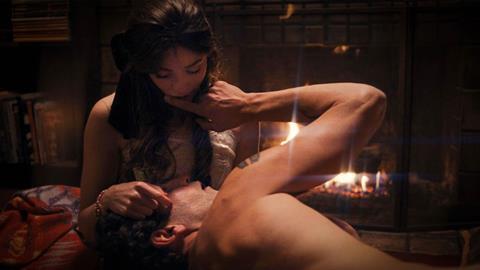 Dir-scr: Lena Dunham. US. 2022. 87 mins
Twelve years have passed since Lena Dunham made her mark on the US indie film scene with Tiny Furniture, and in the intervening period, with six series of Girls and two novels, Dunham has established herself as a provocative and divisive voice. Her return to cinema with the frustratingly uneven Sharp Stick suggests that while she certainly hasn't mellowed in terms of the confrontational material that she tackles, some of the perceptive sting has gone from her social commentary. Interest in Dunham and her work should ensure that the film enjoys a healthy festival life, but it may struggle to gain much traction elsewhere.
While much of this picture misfires, it would be premature to write Dunham off just yet.
The main problem – a considerable issue which undermines much of the film – is the writing of the central character. Sarah Jo (Kristine Froseth) is a rare innocent, a young woman in her mid-twenties who has grown up in LA with a much-married mother (Jennifer Jason Leigh, enjoyable) and an over-sharing aspiring influencer sister (Taylour Paige) but has somehow managed to remain blissfully ignorant of sex. After a superficially fulfilling but abruptly curtailed affair with her employer Josh (John Bernthal), she embarks on a belated journey of sexual self-discovery. Spikes of perceptive malice and sharp dialogue give an astringent bite to the depiction of Sarah Jo's family, and of the milieu in which she exists. But this makes it all the harder to get a reading on Sarah Jo as a central character – her wide-eyed, foundling naivety feels as though it was created in a vacuum. She's written in a way which would be more convincing in a visitor from outer space than it is in someone who has spent twenty-plus years living in Los Angeles, arguably one of the least sexually repressed places in the US.
What adds to the discomfort of the film is the fact that, not only is Sarah Jo essentially written as a child in an adult's body, Froseth also looks very young – she has the gangly, uncertain beauty of a foal. So although her sexual journey is self-determined and she is, theoretically, in control, there is something very queasy about the power dynamics in her initial relationship. Josh is much older than her, a handsome, married deadbeat who happens to be the father of the learning disabled child with whom Sarah Jo works as a carer. This only becomes more jarring when Sarah Jo, unceremoniously rejected by Josh when confronted by his pregnant wife (played by Dunham), decides that he must have dumped her because she wasn't good enough at sex. She makes an alphabetised tick chart of sexual activities – A is for anal, etc – but decorates it with cutesy stickers, a kind of pre-school meets porno aesthetic which is a little hard to swallow, as it were. The film's message – a half-formed pro-porn and sex positivity manifesto – is only going to land if the audience isn't thoroughly weirded out by the sex we get to see on screen.
It's a pity, because on the periphery of the film – in the very interesting dynamics of Sarah Jo's family, in the tart sarcasm of some of the character details – there is much to admire. While much of this picture misfires, it would be premature to write Dunham off just yet.
Production company: Good Thing Going, FilmNation Entertainment
International Sales: FilmNation Entertainment cirabien@filmnation.com
Producers: Lena Dunham, Michael P. Cohen, Kevin Turen, Katia Washington
Cinematography: Ashley Connor
Editing: Catrin Hedström
Production design: Margaux Rust
Music: Luis Felber, Matt Allchin
Main cast: Kristine Froseth, Jon Bernthal, Scott Speedman, Lena Dunham, Taylour Paige, Jennifer Jason Leigh, Luka Sabbat