Venice Days opener from Macao is a wayward lockdown romance which takes place in an unidentifed east Asian city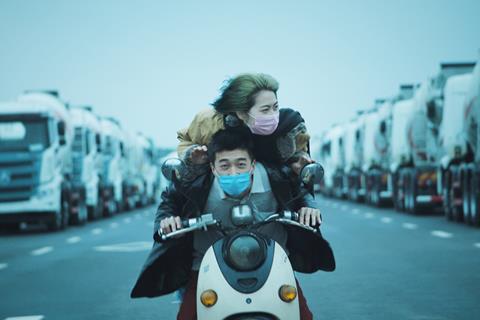 Dir. Chen Guan. Macau SAR. 2021.102 mins
The pandemic strikes and Li You (Wei Ruguang) is trapped in his apartment with just his phone for company. Pretty soon, his friends stop answering and he is cimbing the walls – literally – with boredom. Enter Xiao Xiao (Deng Keyu), a young woman stranded in a strange city when her own village is placed under strict lockdown. Together they reclaim the deserted streets as their playground, disrupting the unearthly stillness and delighting in breaking every rule that they encounter. This intriguingly wayward but uneven first feature from Chen Guan, which was shot during lockdown, captures something of the strange mania that results from the pandemic-induced combination of crushing tedium and continual low level panic. But, like Covid-19 itself, the film ultimately rather outstays its welcome.
Quirky location choices are one of the film's key assets
The opening film of Venice's Days, Shen Kong (translated to 'deep and empty', or 'deep sky') is a picture which will likely beguile the more adventurous fringes of the festival audience and could be a good fit for curated arthouse streaming platforms. The film is a Macau production but unfolds in an unspecified city which is not immediately identifiable as the being within the autonomous region on the South coast of China. This adds to an unmoored, rootless quality, and a feverishness hyperreality which is slightly disengaged from the rest of the world. There's the flavour of a sexually-charged urban fairytale – babes in the hood if you will. There's even the hint of a question mark over whether the relationship is real at all, or whether it's all a figment of Li You's Covid-addled imagination.
Quirky location choices are one of the film's key assets. Li You and Xiao Xiao feel free to roam whereever the whim takes them. A semi-derelict amusement park, all chipped paint and metal fatigue, provides the setting for one notable sequence; in others, they just wander off the street and into an empty karaoke club or shimmy through the railings into a roller skating rink. A network of overgrown tunnels is reimagined by the pair as a dragon's lair; a durian fruit provides a makeshift helmet. Sensation seeker Xiao Xiao buries her face in the notoriously pungent fruit.
The antics of Li You and Xiao Xiao are free, uninhibited and unpredictable. And the filmmaking reflects this. The camera is handheld and easily distracted; the score, althrough sparingly used, is an unruly jostling clamour. But this kind of defiantly errant storytelling starts to test the patience when it becomes clear that there isn't much in the way of a story to tell. And the childlike appeal of the two central characters wanes as the film meanders along. Xiao Xiao, with her green ombre dye job and her bone-deep apathy, is hard to pin down as a character. And erratic pinballing energy ball Li You has sex pest tendencies.
More interesting is the insight into the black market for face masks and the rigorous enforcement of anti-Covid protocols – protocols that Li You and Xiao Xiao adhere to, up to a point: a kiss, snatched through his-and-hers blue and pink paper masks, is a striking image which captures the unnatural forms of intimacy explored in this off beat romance.
Production company: Blue-sea HR&CS
International sales: Asian Shadows Maria@chineseshadows.com
Producer: He Xuan, Li Tianyu
Cinematography: Yang Zheng
Editor: Chen Guan, Cao Hangchen
Production design: Li Xinyi, Liu Lian
Main cast: Wei Ruguang, Deng Keyu