Ursula Meier probes a real-life murder in this welcome - if brief - return to form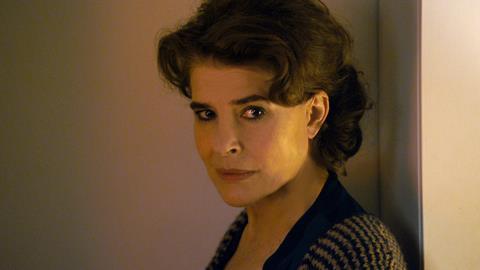 Dir. Ursula Meier. Switzerland/France. 2018. 70 mins.
Concise, thoughtful and provocative, Diary of My Mind is a welcome return for Ursula Meier, the French-Swiss director who made a mark with the eccentric Isabelle Huppert vehicle Home (2008) and the more realistic ski resort drama Sister (2012). Both films launched young actor Kacey Mottet-Klein, who – having gone on to shine in André Téchiné's Being 17 – is reunited with Meier in her contribution to Swiss TV quartet Shock Waves, four stand-alone dramas by different directors based on real-life incidents.
Kacey Mottet-Klein meanwhile, consolidates his status as one of Europe's rawer, edgier new acting talents
Despite the series origin and its brevity, Meier's compelling piece deserves to travel to festival platforms and find wider streaming, if not theatrical, outlets given the terrific central performances by Mottet-Klein and Fanny Ardant, respectively playing a young parricide and the teacher who becomes his unwitting confidante.
Set in 2009 in the town of Cugy, in the canton of Vaud, the film centres around high school student Benjamin Feller (Mottet-Klein), who one day walks into the local gendarmerie with a gun and promptly collapses in a frantic state. It turns out that Benjamin has killed both his parents with his father's pistol, and has sent a full confession of the crime, and his mental condition in the days leading up to it, in a journal addressed to his French teacher Esther Fontanel (Ardant).
Madame Fontanel, devoted to opening young minds, encourages her teenage pupils to write diaries giving vent to their innermost thoughts. But when Benjamin's diary arrives in the post, Judge Mathieu (Jean-Philippe Ecoffey) – the examining magistrate responsible for gathering evidence in the case – clearly regards Madame Fontanel as partly responsible for Benjamin's crime, and for putting unhealthy ideas in his mind, not least by recommending him to read classic confessional texts by French writers such as Jules Vallès and Blaise Cendrars.
As the investigation unfolds, and the film zigzags between the imprisoned Benjamin and flashbacks to events described in his lucid first-person account, judge and teacher effectively become surrogate parents, in conflict over the nature of the boy's education. The drama is partly a study of Benjamin's mental state – presumably akin to paranoid schizophrenia – in which his well-concealed "storms in the skull" fuel his homicidal rage. He hates his father as weak and self-indulgent, but claims to have killed his mother because he didn't wish to leave her a widow.
The film doesn't offer answers to the riddle of Benjamin's psyche, but presents it as a given fact and traces its effects on others – including his classmates, who pay him a cautious, bewildered visit in prison. The film also studies the attitudes of authority to supposed influences on young minds, with Madame Fontanel's literary teaching and encouragement of self-expression being condemned as harmful in much the same way that gangster rap or death metal might be scapegoated in other high school stories.
Cleanly and brightly shot by Jeanne Lapoirie (known for her work with Téchiné and François Ozon, among others) and crisply edited by Nelly Quettier, who also cut Meier's two features, this intelligent, economical study carries its literary and philosophical influences with grace, and achieves a provocative thrust and an emotional power all the more effective for its tone of detachment. Ardant, in arguably her most nuanced role in some time, is terrific as the teacher who starts out from a position of confident enthusiasm about writing, then finds herself increasingly troubled, torn between wanting to turn away from her pupil and the knowledge that she is his only resource.
Mottet-Klein, meanwhile, consolidates his status as one of Europe's rawer, edgier new acting talents, giving his all as a confused young man explosively coming apart at the seams; he proves an unnerving but sympathetic presence, both in front of the camera and in his pensive, soft-spoken voice-over. The stalwart Ecoffey gives strong support as the bullishly accusatory judge.
Production companies: Bande à Part Films, RTS Radio Télévision Suisse, SRG SSR, Arte G.E.I.E.
International sales: Bande à Part Filmsinfo@bandeapartfilms.com
Producers: Lionel Baier, Agnieszka Ramu, Françoise Mayor
Screenplay: Antoine Jaccoud, Ursula Meier
Cinematography: Jeanne Lapoirie
Production design: Ivan Niclass
Editor: Nelly Quettier
Main cast: Fanny Ardant, Kacey Mottet-Klein, Jean-Philippe Ecoffey, Stéphanie Blanchoud, Carlo Brandt