Dir. Garth Jennings, US/France, 2016, 110 minutes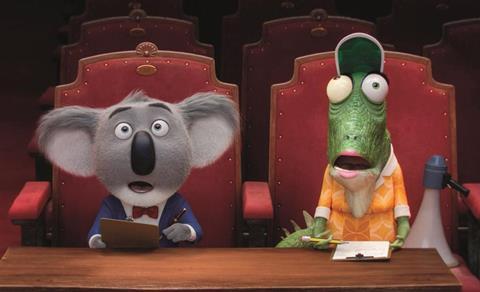 Given the popularity of TV vocal contests and the spontaneity of reality shows, it was only a matter of time before an animated feature-length hybrid of the two came along. The warmhearted and well-meaning Sing is fiction, and its backstage comedy is scripted, with dream-team talent. It should rake in profits at its Christmas release.
There are moments here when the sheer audacity of the technical/dramatic pyrotechnics outshines the music
Sing (shown in Toronto as a work in progress that looks quite complete) looks like tentpole heaven, with cute wacky animals revealing their reality-style quirky life stories before belting their hearts out. Characters like these are also readymade for a sequel, sustained until that happens by a flood of merchandise. Given talent shows are staple of television throughout the world no, the film's global reach could be, as Donald Trump might say, YUGE!
This sentimental collaboration between Universal and Illumination (Minions) hearkens back to the kind of story told in A Chorus Line, the long-running Broadway musical (also a movie) about actors in the musical theatre who are desperate to get the next job. The script by director Garth Jennings builds that tension around a theatre-owner, Buster Moon (a koala impresario voiced heartily by Matthew McConaughey), struggling to keep his house open. He comes up with the not-so-novel idea of staging a contest to raise cash.
The gambit - no surprise - draws a gaggle of misfits, auditioning wildly, eventually finding their way into a group hug, in a warm safe home of a theatre. It's a Hollywood cartoon with a French flavour thanks to Illumination's team, and Jennings manages to twist in a few dark turns on the way. Before the theatre can host its contest, for which a misprint offers a $100,000 prize, a tank of illuminated squid explodes, causing a tsunami that levels the building. So Sing is also a disaster movie.
The singers with nowhere else to go end up saving the day – Scarlett Johansson voicing a punk porcupine hat which shoots out quills on the high notes, Seth McFarlane as mouse with a Sinatra voice, Reese Witherspoon as a sow with 25 piglets, Tori Kelly as a shy elephant, and a menagerie corralled by Jennings himself voicing an old female lizard which seems intended to make the shell of a ruined theatre feel like Noah's ark. Yet that's the only biblical reference here: Christmas songs are nowhere in this Christmas season movie, although much of the rest of the music is recognisable, with Leonard Cohen's hymn, Hallelujah, sung by Kelly the timid elephant in a show-stopping arrangement. Jennifer Hudson's operatic take on Lennon and McCartney's Carry That Weight is another.
There are moments here when the sheer audacity of the technical/dramatic pyrotechnics outshines the music – McFarlane's mouse croons My Way, as a helicopter above searching for an escaped gorilla creates a cyclone. Witherspoon's pig dances a spirited heavyweight pas de deux. Sing has all the makings of a sure crowd-pleaser, especially if Kelly and Hudson help market the film in key cities with large television markets, as they did with solos and a duet onstage at the Toronto premiere. It also helps that the title is as easy to remember as Glee.
The movie lacks a Simon Cowell villain in a panel of judges – what's a singing contest without cruelty? - but this animal kingdom does have its predators. They don't get away with much, however, which will make Sing sit well with parents of young children who may want to see it multiple times. Sing does have some action sequences that veer crazily in unexpected directions, including a clever car-washing scene with live talking animal skins (what else?) There are also tech mishaps onstage that come right out of the 1930's backstage comedies, which this musical also salutes.
The sheer variety of animal characters and caricatures goes far beyond the yellow and blue palette of Minions, Illumination's earlier hit franchise. Sing is colourful, yet at almost two hours, it is also long. Still, if kids aren't drawn to one singing animal (or familiar voice), there's always another around the corner, holding up the tentpole.
Production companies: Universal Pictures, Illumination Entertainment
International sales: Universal
Producers: Chris Meledandri, Janet Healy
Screenwriter: Garth Jennings
Editor: Gregory Perler
Co-director: Christophe Lourdelet
Executive music producer: Harvey Mason, Jr.
Music supervisor: Jojo Villanueva
Original score: Joby Talbot
Production design and character design: Eric Guillon
Main cast: Matthew McConaughey, Reese Witherspoon, Seth MacFarlane, Scarlett Johansson, John C. Reilly, Tori Kelly, Taron Egerton, Garth Jennings, Jennifer Saunders, Peter Serafinowicz, Nick Kroll, Beck Bennett, Jennifer Hudson, Nick Offerman, Jay Pharoah, Leslie Jones