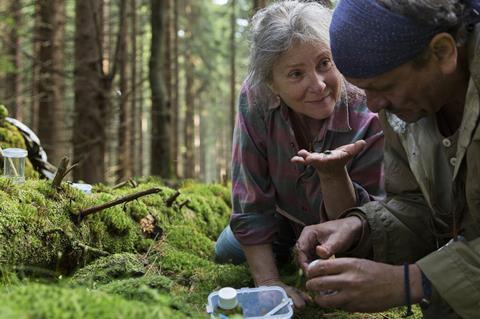 Dir/scr. Agnieszka Holland. Poland/Germany/Czech Republic/Sweden/Slovak Republic, 2017, 128 mins.
Misfortune stalking a small town, the natural world enforcing balance, or both? Spoor's narrative defies easy categorisation but invites considerable contemplation, Polish writer-director Agnieszka Holland has toyed with high-profile TV projects such as Burning Bush and House of Cards of late, and this part-mystery/thriller, part exploration of societal oppression in rural confines, marks her first film since 2011's Oscar-nominated In Darkness. Directed 'in collaboration' with her daughter Kasia Adamik, Spoor is eclectic yet satisfying.
Shot with an eye for beauty lurking beneath the seeming bleakness
Adapted by Holland and Olga Tokarczuk from the latter's novel Drive Your Plough Over the Bones of the Dead, Spoor delves into a spate of deaths seemingly linked to wildlife in a small village on the Czech-Polish border. The film's central character is rule-breaking retired civil engineer turned part-time English teacher Duszejko, played with devastating conviction by veteran actress Agnieszka Mandat. A warm reception for her performance should help drive the intriguing Spoor into wider festival play following its Berlin premiere.
Nothing about Duszejko fits the norm. Although everyone in her mountainous village has eccentricities and struggles, as a willing outsider in a close-knit hunting community, hers stand out more than most. She refuses to answer to her first name, wears her personality on her sleeve and crusades tirelessly for animal rights. When Spoor opens, she's happily living alone with the two dogs she regards as her daughters; however, when they disappear suddenly, her agitating nature only amplifies.
Two months later, her neighbour Matoga (a warm turn from Wiktor Zborowski) calls upon her help when a nearby resident and known poacher is found dead. Certain that she spotted deer tracks at the scene, Duszejko comes up with a distinctive theory. It's easy for the local police chief and others to dismiss her ideas, but more bodies soon pile up in similar circumstances.
With the instant dismissal of Duszejko by the men around her always apparent, and the few she calls her friends — the haunted-by-the-past Matoga, epileptic police IT worker Dyzio (Jakub Gierszał), and the kindly young woman Duszejko nicknames "Good News" (Patricia Volny) — also experiencing their own forms of marginalisation, it's far from surprising that Spoor's rumination upon mistreatment none-too-subtly but effectively extends beyond the animal realm.
Pondering imbalances of power is always timely, and here, it adds an extra layer of urgency and commentary to an already potent and perceptive offering.Shot with an eye for beauty lurking beneath the seeming bleakness, technical credits are all solid and mostly reunite Holland with previous collaborators, who help enforce this link. While animal scenes were filmed documentary-style by a dedicated unit, it's impossible not to notice the parallels stressed as the feature places both humans and forest creatures in similar situations, and pointedly cuts between the two.
Production Company: Tor Film Production
International sales: Beta Cinema, beta@betacinema.com
Producers: Krzysztof Zanussi, Janusz Wąchała
Executive producer: Janusz Wąchała
Screenplay: Olga Tokarczuk, Agnieszka Holland, adapted from the novel "Der Gesang der Fledermäuse" by Olga Tokarczuk
Cinematographers: Jolanta Dylewska, Rafał Paradowski
Editor: Pavel Hrdlička
Music: Antoni Komasa-Łazarkiewicz
Production design: Joanna Macha
Cast: Agnieszka Mandat, Wiktor Zborowski, Miroslav Krobot, Jakub Gierszał, Patricia Volny, Borys Szyc