Dir. Yance Ford, US/Denmark, 2017, 107 minutes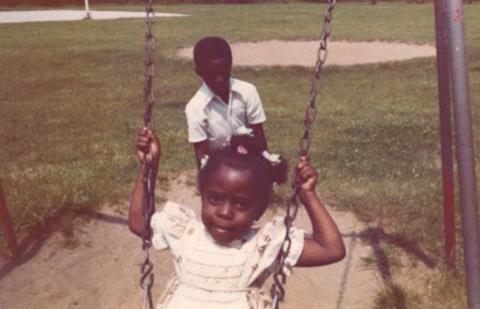 Strong Island is a relentless documentary that reconstructs the killing of a young black man by a white teenager in the New York suburbs. It feels like a sibling's cry that "my brother's life matters," but it's mostly a lone voice. The title plays on the name of Long Island, where the killing took place in April 1992 and its timeliness, as rage mounts over the killings of black men by police in the US, is sure to revive media interest in yet another case where justice was denied.
The extreme HD tactility of first-person close-ups is not designed to make the audience feel comfortable - it's the personal aesthetic of this painful film
That moral urgency could earn Strong Island awards on the festival circuit, plus a limited theatrical run. Television is where Strong Island will play most widely, but there's also enough drama here for a feature remake.
The murdered man in Strong Island was William Ford, and the film's narrator and director is Yance Ford, born William's sister and now a man. William, about to train for law enforcement, was shot at the age of 24 in a dispute over a car in a repair shop near his home. The killer, a mechanic whose truck had driven into Ford's car, was never charged with a crime. A grand jury of 23 white citizens chose not to indict him.
If that description feels like a contemporary American template, this murder isn't. This is not a tale of inevitable fatalism. Yance Ford builds her story on the strength of her middle-class family. Her parents, who had good jobs, left the American South and then abandoned New York City for the dream of a home in the suburbs, which turned out to be racially segregated. The closest thing to humour in this sober doc comes in wry music cues to "Let the Good Times Roll." Long Island for this family was a place where even a dead black man like William Ford was regarded as a suspect before he was seen as a victim.
As glowing family pictures form a leitmotif running through Strong Island, we hear from Yance and William's appealing mother, a school principal, who dies while fighting a losing campaign for accountability. Yance Ford never shows us the killer who said he feared for his life, or the owner of his garage, where stolen cars were taken apart and sold. (Somehow you get the feeling that the killer's name won't be a secret once the media catches up with him.)
What we do see, covering the entire screen, is the face of Yance Ford at point-blank range from the camera, retelling the story and enduring the futility of trying to bring the young killer to justice. 25 years later, Yance can't escape the pain of a brother's death – forgotten by so many others – and the frame becomes a confining enclosure for a sibling's anguish coming out of every pore.
The extreme HD tactility of these first-person close-ups is not designed to make the audience feel comfortable. It's the personal aesthetic of this painful film. By the end, you remember this family and its loss, and Yance Ford's war of attrition. She can't bring William back, but he had secrets that the director discovered through piecing together fragments that he left behind. (It begs the question – if so much of his sparsely documented life can be reassembled, what about the evidence to charge his murderer?)
Strong Island is not The Thin Blue Line, Errol Morris's now-classic doc that exonerated a wrongly-imprisoned man, although its stylised look can evoke Morris. Justice isn't done, which we know from the start. The murder never even gets to trial, and now all court documents are out of reach.
Yance Ford is a powerful witness for a journey that finds truth, but no redemption through the legal system. Strong Island is a tribute to the memory of a man who becomes more noble the better we know him. This documentary reminds us that justice can be as elusive in the US suburbs as anywhere else, and that having guns keeps people who are born different from getting too close.
Production companies: Yanceville Films, Louverture Films, Final Cut for Real, POV
International sales: Doc & Film International d.elstner@docandfilm.com
Producers: Yance Ford, Joslyn Barnes
Executive producers: Danny Glover, Susan Rockefeller, Bertha Foundation, Michel Merkt, Laura Poitras
Cinematigraphy: Alan Jacobson
Editor: Janus Billeskov Jansen
Music: Hildur Gudnadottir, Craig Sutherland