Alicia Vikander and James McAvoy star in the latest from Wim Wenders.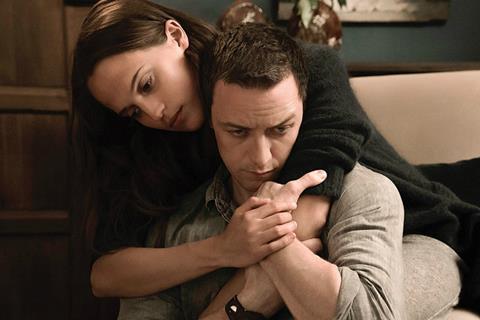 Dir. Wim Wenders. France, Germany, Spain. 2017. 112 mins
A brief romantic encounter provides the emotional fortitude for two lovers to endure two very different ordeals, in this adaptation of a novel by J.M. Ledgard. Alicia Vikander and James McAvoy make for a highly photogenic central couple, playing, respectively, a bio-mathematician and a water engineer, who meet accidentally in a French oceanfront hotel. Wim Wenders' latest is a handsome production which, although it is rich with symbolism, is ultimately not quite as satisfying as it should be.
Cinematography is arresting, with particularly striking use made of the Faroe Islands and of Djibouti in Africa.
This is truly a modern romance, global in its scope, which takes in themes as diverse as the environment and jihad. The marketable combination of McAvoy, Vikander and Wenders should make it likely that arthouse theatrical bookings will follow what is sure to be a healthy festival run. However, the fact that the two central characters are on diverging paths and spend most of the film apart means that this is also, in some ways, an unconventional romance, one which denies the audience the emotional payoff that they might be expecting.
We first meet Dani (Vikander) on board the ocean-going research ship L'Atalante (no doubt a nod to another great on screen romance which sees its lovers prematurely parted). Despite an imminent dive in a mini submarine to hadal layer of the ocean – a zone of permanent darkness and limited life – Dani is melancholy. The man she fell for during a few intense days in France is not returning her calls. Our first glimpse of James (McAvoy) gives us some indication why he is incommunicado: smeared in his own filth and sweat, he is locked in a windowless cell in Somalia, begging scraps of food from the children who walk past his only source of light, a arm-sized hole in the wall.
The film then rewinds to reveal why a well-digger for a charity might end up a prisoner of Al Qaeda. James is, in fact, a British agent, volunteering for a risky mission in Somalia. His cover story is that he is an engineer, working for water charities and based in Nairobi. Before the mission, he takes a mini break to France, to the same hotel where Dani is preparing for her dangerous dive. The film takes its time to introduce the characters, teasing the audience. But when they finally do encounter each other, the attraction is as sudden and powerful as a spring tide.
There's a crackling physical and mental chemistry between McAvoy and Vikander. But even so, the fact that they only spend a few short days together means that the relationship is a little over-stretched as the glue which holds the film together. The screenplay equates light and enlightenment – not for nothing are both characters surrounded by darkness at pivotal moments of the story. Both are forced to confront their mortality; both delve into the memories of each other in order to stay strong.
Submergence is a quality package all round. Cinematography is arresting, with particularly striking use made of the Faroe Islands and of Djibouti in Africa. The score has a gently relentless surge which echoes the swell of the sea. And intelligent sound design gives us the space to comprehend the connection between these two people who find themselves very much alone.
Production companies: Lila 9th Productions, Backup Studio, Neue Road Movies, Morena Films, Umedia
International Sales: Embankment Films info@embankmentfilms.com
Producers: Cameron Lamb, David Atlan Jackson, Jean-Baptiste Babin, Uwe Kiefer, Joel Thibout, Wim Wenders, Juan Gordon, Mikel Lejarza, Mercedes Gamero, Gilles Waterkeyn, Adrian Politowski, Martin Metz
Screenplay: Erin Dignam
Cinematographer: Benoît Debie
Editor: Toni Froschhammer
Production design: Thierry Flamand
Music: Fernando Velázquez
Starring: James McAvoy, Alicia Vikander, Celyn Jones