Dir. Sarah Gavron. UK, 2015. 106 mins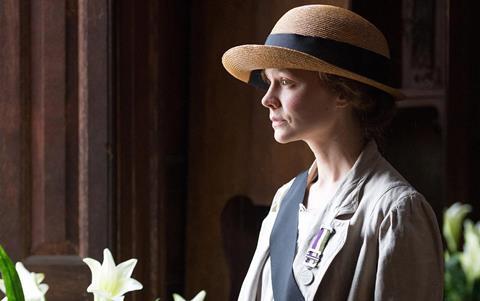 Carey Mulligan plays a hopelessly downtrodden laundry worker in 1912 London who becomes caught up the increasingly-violent surge of the women's fight for votes in Sarah Gavron's (Brick Lane) Suffragette. Rising from some creaky plot contrivances to a distressing finale, Suffragette, which features Meryl Streep all too briefly as Emmeline Pankhurst, is a rather tellingly delayed cinematic take on the misogyny of a century ago. The contemptuous dismissal of the women depicted onscreen cannot be safely consigned to the past, either, and Gavron, working with writer Abi Morgan, underlines this very effectively through a not-always-seamless blend of fictitious characters with real-life events. Their conclusion does not sell this story short.
Mulligan gives Maud equal measures of dignity and desperation and avoids over-playing her hand throughout
Set for an awards season run after its Telluride premiere (it opens in the UK and Ireland in mid-October), Suffragette should benefit from an warm media response, certainly the support of womens' groups, and perhaps a revival of interest in the early-20th century pioneers and proto-terrorists who were willing to sacrifice their lives and families for a change in circumstances which, despite so many advances, hasn't fully transpired the way they might have wished. Methods used by police to break their movement – including separation from their families, repeated incarceration and force-feeding – are accurately represented here, and Suffragette is a bracing reminder of that casual brutality. Clunky first-act plotting which moves Mulligan's Maud out of the laundry and her East End tenement slum and into the Houses of Parliament to testify in front of Lloyd George within mere minutes will need to be forgiven in the knowledge that Suffragette will ultimately pay off. More films could easily be made about this movement.
Mullligan's Maud is a wife to Sonny (played with a nice degree of nuance by Ben Whishaw) a devoted mother, and a tireless worker in a life- and soul-destroying laundry in Bethnal Green which is run by an abusive boss (played by Geoff Bell). Delivering a package into the West End in 1912, she becomes caught up in a protest during which Suffragettes throw rocks through the windows of department stores in Central London (production during this 'Oxford Street' sequence is period perfect).
She recognises one of the protesters as Violet (Anne-Marie Duff), a new colleague at the laundry, and soon Maud finds herself being seduced by the prospect of gaining a say in her own destiny, even though she knows it could destroy the life she has now. Brendan Gleeson, as the Irish copper with experience infiltrating the Fenian movement who is drafted in to bring down the suffragettes, soon tells her: "You're nothing in this world." She knows he's right. Armed with some clunky dialogue, he tries to blackmail her into betraying her fellow sympathisers, but she refuses, although one wonders why she's free to make such deals after brandishing her boss with an iron.
A detailed sense of the history of the Pankhursts and the Women's Social and Political Union (WSPU) never fully emerges. Suffragette's strength lies in the fact that, even though some of the characters and events depicted seem archetypal, and they're certainly composites, they ultimately turn out to be more than that. The men are not all villains; the women don't all follow predictable paths. Gleeson's Inspector Steed is shaded, almost regretful at times, while Whishaw's Sonny is not by nature a bully. Mulligan's Maud may drop everything perhaps a little too rapidly in the chase for her freedom and the chance to make a difference, but this is also a film in which everything has meaning for someone with so little. The film is also helped by the universal truth of the drama it illustrates. Prison sequences have the ring of authenticity.
Mulligan gives Maud equal measures of dignity and desperation and avoids over-playing her hand throughout. It's a stripped-down, nakedly impressive performance, as is that of Anne-Marie Duff. Those expecting (or led to expect, from the posters) Meryl Streep to turn out for her Iron Lady writer Abi Morgan with a barnstorming pivotal performance will be disappointed, as the actress is restricted to one Eva Peron-like balcony sequence. Instead Helena Bonham Carter steps out of some of her more recent exaggerated roles to play the chemist Edith, a more typically middle-class activist of the Suffragette movement than Maud or Violet. Interestingly Bonham Carter is the great-grandaughter of Lord Asquith, prime minister at the time of the events depicted onscreen.
For all that it is set up as a classic prestige film with impeccable production credits, Suffragette is markedly unusual looking – Spanish cinematographer Eduard 'Edu' Grau (Tom Ford's A Single Man) shot in Super 16, according to the production notes, using a tricky colour palette which accents the green and purple colours of the Suffragette movement. The overall result can feel jarring during individual sequences amidst the tea-stained tones of the time, but has a cumulative effect which is curiously disturbing, perhaps even subversive. It's a film with enough energy to escape its period prison.
Production companies: Ruby Films
International sales: Pathe International, sales@pathe-uk.com
Producers: Faye Ward, Alison Owen
Screenplay: Abi Morgan
Cinematography: Edu Grau
Production design: Alice Normington
Costume design: Jane Petrie
Editor: Barney Pilling
Music: Alexandre Desplat
Main cast: Carey Mulligan, Helena Bonham Carter, Brendan Gleeson, Anne-Marie Duff, Ben Whishaw, Meryl Streep, Natalie Press, Romola Garai