Sunny Chan serves up a light-hearted, soft-boiled comedy about misguided romance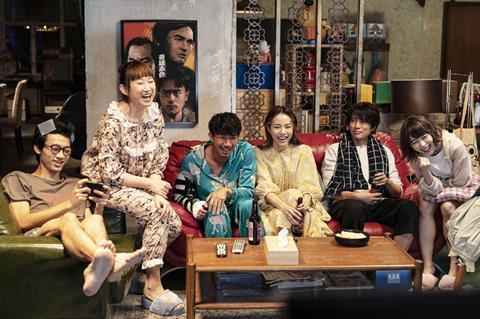 Dir/scr: Sunny Chan. Hong Kong. 2022. 116 mins.
Misguided romance, mid-life crises and forced quality family time are all invited to dinner in Sunny Chan's theatrical comedy, Table For Six. Originally scheduled for release in February of this year but unable to screen due to continued cinema closures in Hong Kong, Table For Six has its world premiere in Udine. It's a light-hearted affair about three brothers awkwardly approaching middle age, and Chan plays every narrative beat for laughs. While this approach makes the film easy to digest, it also means it misses out on the emotional payoff that comes with slightly higher – or at least somewhat consequential – stakes.
Much like the simmering pots of soup that Josephine prepares daily, tensions boil over.
A screenwriter since the early 2000s, this is Chan's second film as director following 2018's Men On The Dragon, another comedy also about men approaching mid-life. With its likeable ensemble cast, each performing comedy melodrama with aplomb, Table For Six has strong arthouse appeal and could continue its theatrical journey beyond festival play.
Steve (Dayo Wong) is the oldest – and most strait-laced – of the brothers, taking it upon himself to head up the household after the parents have passed away. Along with Bernard (Louis Cheung Kai-chung) and Lung (Peter Chan), the men live in their late father's former barbeque pork kitchen, a space since renovated into spacious living quarters – something incredibly sought after in Hong Kong, although they often complain that it still smells of char siu, one of many jokes about being stuck in the past.
Rather than sibling rivalry, Chan is interested in the paradox of masculinity in stasis: Steve is still in love with an old flame, but he won't do anything about it, and he has become incredibly insular, closing himself off to romance and the world by working from home and rarely leaving the apartment. Bernard appears to be the most well-adjusted, but he is secretly dating Steve's ex-girlfriend, Monica (Stephy Tang) and Lung is now a layabout E-sports player who quit his day job in the hopes of winning big. None of them knows how to move on, although it is Steve who has the biggest blockage, refusing to sell the flat and insisting they continue to spend quality time together at the dinner table every night, as per their mother's dying wish.
With so much weight slung on the absent matriarchy, it is no wonder that it takes three smart, capable and forward-moving women to intervene.
First, Steve invites Josephine (Ivana Wong), Lung's girlfriend, to move in with them. It is a financial transaction, whereby the brothers will pay her to cook them two meals a day. Seeing as she already spends most of her time there and cooks the lion's share of the food anyway, it seems like a good enough proposal. Next, Steve invites Monica to move in, too. It is an altruistic act to prove he has moved on, which he hasn't. Finally, in a madcap moment, he asks manic pixie dream girl and online influencer Meow (Lin Min-chen) join their expanding band of misfits by accelerating their meet-cute into a fake relationship.
Much like the simmering pots of soup that Josephine prepares daily, tensions boil over. Such food related metaphors continue throughout the film, with one entire meal consisting of foods 'pretending' to be things that they are not: pork for beef and beef for pork, fish as crab and crab as fish.
There are some references to the changing face of Hong Kong through Monica's mission to save its culture by collecting old signs that would otherwise be sent to landfill, and through a series of linguistic jokes that involve subbing Cantonese and Mandarin (and that mostly continue to land in the subtitling). Overall, however, politics are served on the side. Alan Wong and Janet Yung's imposing score is always at the ready to undercut any potentially serious moment as sole piano chords quickly lead into a dramatic swell of wind instruments and strings. Irving Cheung's colourful production design makes the small quarters they live in feel like a lively playroom rather than a big city apartment and intermittent pans of food porn from cinematographer Meteor Cheung give the film just enough visual spice for sustenance.
Production companies: Edko Films, Irresistible Beta, One Cool Film Production
International sales: Edko Films, info@edkofilm.com.hk
Producers: Bill Kong, Ivy Ho, Tang Wai-but
Cinematography: Meteor Cheung
Editing: Cheung Ka-fai, Cheng Wai-lun
Production design: Irving Cheung
Music: Alan Wong, Janet Yung
Main cast: Dayo Wong, Stephy Tang, Louis Cheung Kai-chung, Ivana Wong, Peter Chan, Lin Min-chen, Fish Liew