In Georgia, giant trees are being uprooted and amassed by a billionaire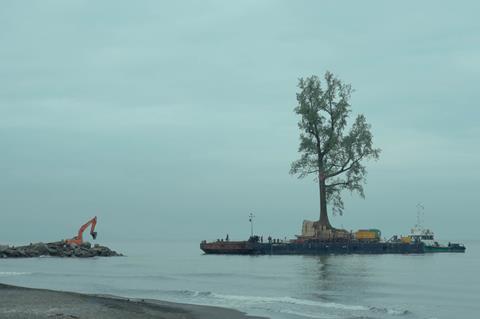 Dir/scr: Salome Jashi. Switzerland, Georgia, Germany. 2021. 91 mins
Humanity's desire to control the natural world is taken to extreme lengths in Taming The Garden. Salome Jashi's quietly absorbing documentary charts the systematic uprooting and transportation of ancient trees from small communities in rural Georgia to the private gardens of a wealthy individual. The clash between poverty and privilege is one of several intriguing elements in a film where the offbeat subject matter and striking imagery make an entrancing combination.
The secluded lair of a Bond villain bent on world domination, one tree at a time
Jashi begins with a vivid sense of the tranquility to be found on the unspoilt coastline of western Georgia. The acute sound design captures the gentle lapping of waves at the sea shore and a whisper of wind in the trees. There is a seamless fold on the horizon between blue skies and azure seas in a place where time appears to have stood still.
We subsequently witness a violation of that tranquility as industrial sized diggers are deployed to remove a tree. A circle of roots the size of a carousel is carefully wrestled from the ground. Paths are cleared, transportation arranged, roads built to the sea where the tree can be taken by barge to its new home. Later, as the vast spreading branches of the tree float past, swaying gently like an elephant, seemingly suspended in mid-air, it could almost be an image from a Theo Angelopoulous film.
Trees that have stood for decades and sometimes centuries are now the most valuable asset that some residents possess. The buyer is willing to pay a small fortune to acquire them. It is only when he is referred to as Ivanishvili that we realise these trees are destined for the gardens of Georgia's billionaire former Prime Minister. He is now creating a dendrological park on his estate in Shekvetili.
Jashi lets the images and the Georgian people speak for themselves. The closing credits acknowledge a roll call of villages including Alambari, Laituri and Supsa. There is no commentary or context but gradually we gain a sense of what these trees have meant to people. They are a piece of many family stories, markers of history passing, places of shelter and livelihoods that are ripe with memories. Their loss is marked not only by the scarring of the landscapes but in heavy hearts. "I planted that tree when I was 25," declares one elderly woman. Kishvili's generous payments are too much to resist. One local wrily asks: "And when he has all the trees?" " Then he'll go after the birds," comes the reply.
Ambivalent feelings towards these unexpected windfalls are duly noted. There is the promise of riches, improved local roads and some people note how nobody had seemed too concerned about their trees before now. Equally, there is a sense of loss and lamentation as trees vanish and the land around them is left resembling a battlefield.
The final section shows the uprooted trees in their new home. The devastation of their uprooting has led to a kind of surreal beauty. We see perfectly manicured gardens filled with truly spectacular specimens, bamboo pathways, sprinkler systems and pink flamingoes stepping gingerly in lakes. It feels like the secluded lair of a Bond villain bent on world domination, one tree at a time.
Production companies: Mira Film, Corso Film, Sakdoc Film
International sales: Syndicado aleksandar@syndicado.com
Producers: Vadim Jendreyko, Erik Winker, Martin Roelly, Salome Jashi
Editing: Chris Wright
Cinematography: Goga Devdariani, Salome Jashi
Music: Philippe Ciompi, Celia Stroom