Dir/scr: Adam Pinney. US. 2016. 76mins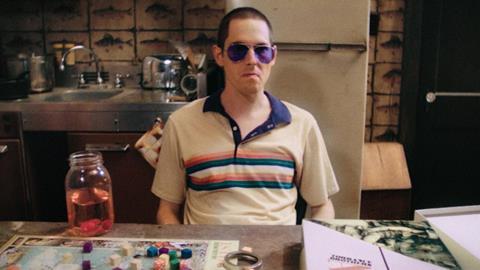 Writer-director-editor Adam Pinney makes an off-kilter, confident feature debut with The Arbalest, telling the story of a melancholy toy inventor whose wealth and fame can't make up for the woman who got away. Sometimes overindulgent of its own concentrated brand of deadpan strangeness, this bittersweet, prickly comedy is nonetheless visually striking and fully in command of its potentially off-putting tone, drawing you in even as it risks alienating those not willing to get on its screwy, weirdly resonant wavelength.
The Arbalest may occasionally be too proud of its arch temperament, but the film marks Pinney as a storyteller who can capably toy with an audience.
Winner of the South by Southwest Grand Jury Prize for narrative features, The Arbalest should attract indie distributors with a taste for adventurous, quirky fare. However, with no marketable names in the cast, this low-budget production will need to rely on festival buzz and good reviews to boost its profile. That said, superb lensing from cinematographer Hugh Braselton and an imaginative period look could lend itself to a fetching trailer that might attract fans of left-of-centre American indies.
Spanning the years 1968 to '78, the film stars Mike Brune as Foster Kalt, who, when we first meet him, is an idealistic toy inventor hoping to make his name. At a conference in New York City, he meets the beguiling Sylvia (Tallie Medel) and a condescending, unnamed stranger (Jon Briddell), who will also present his invention.
The unexpected death of this stranger leads Sylvia to make a bargain with Foster: She'll split the profits of the dead man's innovative new toy with him if he pretends it's his own. (Since Sylvia advised the unnamed man on his toy, she's worried she'll be suspected of stealing the idea if she goes public with the invention.) The puzzle-cube toy ends up becoming a phenomenon, but for the next 10 years Foster is haunted by his unrequited love for Sylvia, who leaves his life just as quickly as she entered it.
A cinematographer for the 2014 viral comedy short Too Many Cooks and Joe Swanberg's 2013 thriller 24 Exposures, Pinney demonstrates a talent for arresting images, distinctive mood and sharp pacing with The Arbalest, which works less as a compelling narrative than as a weaving of a captivating style. At 76 minutes, it has the fizzy energy of an upstart short film, although that manically clever approach can feel protracted and a tad one-note stretched to feature length.
Pinney isn't overly concerned with making Foster a layered or sympathetic protagonist: as played by Brune, he's a sweet sad-sack who is slowly driven mad by his belief that Sylvia is meant to be with him. (The slim basis for his rationale was her drunken, nonsensical declaration that she loved him as she was passing out the night they met in 1968.) As the years go by and the film switches shooting styles and visual design, Foster grows darker and more cut off from society. The Arbalest quietly observes his descent without commentary, which only makes the transformation all the more unsettling.
Playing the distant object of Foster's affection, Medel is a beautifully enigmatic figure. We can see why Sylvia's smoky eyes and flirty manner would entice the introverted inventor, but the actress makes her character's blunt honesty a stingingly funny rejoinder to his romantic delusions. (On a few occasions, Sylvia explains to Foster that she feels nothing for him, but Medel's warmth and vulnerability leave the door open just enough to make him believe otherwise.) Exceptional in the little-seen 2012 indie The Unspeakable Act, her breakout feature role, Medel isn't given as complex a character here, but she again suggests a woman of myriad mysteries and hidden depth.
Working with Braselton, production designer Aimee Holmberg and composers Thomas Barnwell and Ian Deaton, Pinney jumps around between timeframes to tease out the question of what became of Sylvia and why Foster was so bereft. But even if the storytelling tends toward the slight and the precious, The Arbalest can pull the rug out from under you with an unexpected emotional crescendo or plot twist. On that last note, two of the film's best surprises come about because Pinney blithely flouts reality, coming up with inventions that, for unexplained reasons, don't exist in the film's world. The Arbalest may occasionally be too proud of its arch temperament, but the movie marks Pinney as a storyteller who can capably toy with an audience.
Production company: Fake Wood Wallpaper
Worldwide sales: Alex Orr, alexorralex@gmail.com
Producer: Alex Orr
Cinematography: Hugh Braselton
Production design: Aimee Holmberg
Editor: Adam Pinney
Music: Thomas Barnwell & Ian Deaton
Website: www.thearbalest.com
Main Cast: Mike Brune, Tallie Medel, Jon Briddell, Robert Walker Branchaud, Felice Monteith, Matt Stanton, Marc Farley, Alex Orr