Impressive debut is set on the border between Hong Kong and China, where a schoolgirl embarks on a smuggling career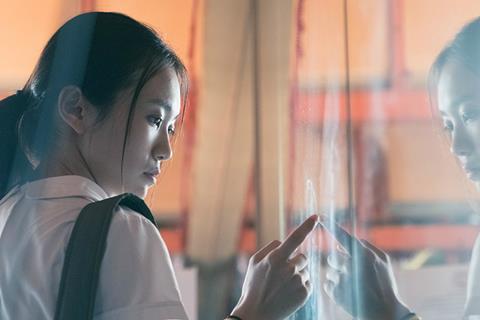 Dir Bai Xue. China. 2018. 99 mins
Bai Xue brings a sharp feel for character and a flavoursome use of the Hong Kong setting to her assured feature debut The Crossing (Guo Chun Tian). The story of a teenage girl crossing physical borders and moral boundaries feels fresh and engaging and should gain wider festival exposure following its Toronto world premiere. This is an involving and intelligent piece of storytelling that should establish Bai as a talent to watch.
Bai Xue freezes the frame at each moment that Peipei crosses a line that places her deeper in trouble.
Peipei (Huang Yao) spends her life crossing the border from her home in mainland China to her Hong Kong high school. She has just turned sixteen, crossing another border from childhood to adulthood. Her boozy mother takes more interest in her mahjong parties than anything Peipei might want from her. Her father works night at a shipping yard and is largely absent from her life. The girl has been obliged to become self-reliant and if anything is going to change, then it will be entirely at her own instigation.
Peipei is desperately trying to save funds for a Christmas trip to Japan with her best friend. They dream of spending the time sipping sake in hot tubs as a blanket of snow surrounds them. It seems more of a fantasy than a reality, but it is all the motivation Peipei needs to try and raise money, firstly by working as a minimum wage waitress and then by agreeing to smuggle highly coveted mobile phones across the border.
Her sweet, smiling, schoolgirl innocence is the perfect cover for a successful new career as a smuggler.
Peipei is a resourceful character who grows in confidence as she becomes more deeply involved in the criminal activities of Mrs Hua (Carmen Soup), a 21st century Fagin with her own gang of thieving boys. Peipei seems a rather vulnerable, isolated figure, often captured alone in a crowd or nudged to the edge of the frame. Windows and mirrors display the reflection of a person who seems to be slightly detached from her own actions and the consequences if she was ever caught.
Bai Xue freezes the frame at each moment that Peipei crosses a line that places her deeper in trouble. The film may appear unassuming but there is a sharp cinematic sensibility on display here. Handheld camerawork intimately capture the giddy flow and emotions of Peipei's new life and her attachment to fellow smuggler Hao ( Sunny Sun).
Cinematographer Piao Songri really captures a sense of the bustle and energy of Hong Kong from the sprawl of twinkling lights visible from a mountain top to the crowded markets at street level. The camera seems to slither through all the extremes of the island, prowling shadowy back alleys, diving into stairways, jumping into the middle of a yacht party and rushing through a downpour. He ably fulfils the old cliche of making the location feel like another character in the film.
Bai Xue also maintains a steady control of pace throughout, allowing enough time to establish Peipei's life and aspirations and then accelerating the tension as she chooses to take increasingly dangerous risks.
Production company/international sales: Wanda Pictures diana.zhangyi@foxmail.com
Producer: Cary Cheng
Screenplay: Bai Xue, Lin Meiju
Production design: Cheung Siu Hong
Editing: Matthieu Laclau, Tom Lin, Tsai Yann-Shan
Cinematography: Piao Songri
Music: Gao Xiaoyang, Li Bin
Main cast: Huang Yao, Sunny Sun, Carmen Soup