IDFA winner is the sensitively-told story of an orphaned 10 year-old boy living next to a battle zone in Eastern Ukraine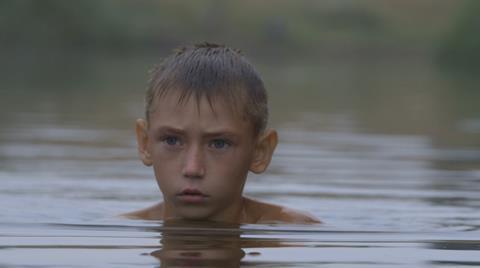 Dir. Simon Lereng Wilmot. Denmark/Sweden/Finland. 2017. 91 mins.
Winner of the First Appearance award (for debut features) at IDFA, Simon Lereng Wilmot's moving and effective documentary follows a 10 year-old orphan over the course of one year living in the almost-abandoned town of Hnutove, minutes from the line of combat where Ukrainian and pro-Russian forces battle it out in the Donetsk region of eastern Ukraine.
Everything in his life is trying to pull Oleg out of childhood and hurl him into a fraught, no-hope, hard-scrabble adulthood
Wide-eyed Oleg lives in the care of his beloved grandmother. She can't bear to move house and become a refugee, but grows increasingly more fragile as distant bombs shake her shanty cottage and anti-aircraft fire lights up the night sky. Lereng Wilmot's film is a touchingly intimate story about innocents caught in a no man's land of conflict: children and the elderly are all that remain, looking at their feet for landmines as they tentatively walk through deserted village roads to avoid becoming casualties of war. As ever, it's the poorest and most vulnerable who are the first to lose what little they had.
Lereng Wilmot's step up to feature-length documentary film-making should certainly travel the festival circuit after its IDFA win, particularly to those concerned with human rights and childhood. All the while, its protagonist's chances clearly diminish with time and advancing adolescence.
Oleg, a 10 year-old who lives with his kindly grandmother in the most basic of accommodations, is constantly instructed to "look under your feet". His mother has died, and there is no mention of either his father, or the father of his younger cousin Igor. Igor's mother, Aylona, is leaving town – much like everyone else - to join her soldier boyfriend, and his beloved playmate's departure is the latest sadness in Oleg's sparse life. Through long shots alternated with extreme close-ups, Lereng Wilmot conveys Oleg's innocence, even amidst the rubble of war – the empty bottles he smashes with unconvincing bravado, the abandoned barracks full of live munitions, the pistol he finds with teenage neighbour Kostya.
Everything in his life is trying to pull Oleg out of a childhood in which he swims in a lake with his cousin and talks to his mother by her graveside and hurl him into a fraught, no-hope, hard-scrabble adulthood. The seven children left in his class practice evacuations and missiles start to hit the boarded-up houses in his town. When his grandmother's trembling hands can no longer cook his food and she takes to her bed, shaken by the deafening noise into constant panic attacks, Oleg tries to make sandwiches for Igor, fretting that they have no 'triangular bread'.
Igor also twitches whenever the bombs fall, but, at 10, Oleg has learned how to hide his fears. From his rapidly assessing looks, to his attempts to assert his superiority over Igor ("we have two throats; one throat for water, and one for food") Lereng Wilmot shows how much Oleg wants to grow up and protect his baboushka, but also how much of a child he still is. Close-up shots on Oleg, his grandmother and Igor convey their different reactions but also how they much they share the same predicament. Editing is sensitive to this loving, traumatised unit, and Wilmont's shots of the town through the seasons establish a secure timeframe, in a predicament that seems endless.
Production company: Final Cut For Real
International sales: Cinephil, info@cinephil.co.il
Producer: Monica Hellstrom
Executive producers: Philippa Kowarsky, Signe Byrge Sorenson
Cinematography: Simon Lereng Wilmont
Editor: Michael Aaglund
Music: Uno Herlmersson, Erik Eocksson