Dir/scr. Oliver Hermanus. SAf/France 2015. 110 mins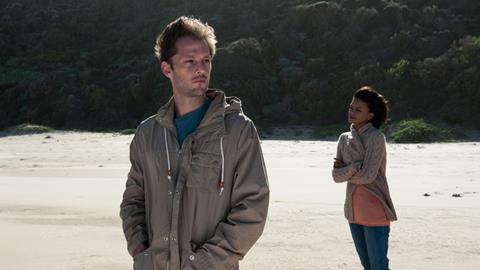 South African drama The Endless River has more than its share of ironies - not to mention gaps, ambiguities and uncertainties. But perhaps the biggest irony of all is the closing caption 'THE END'. Any finality in this story is deeply uncertain - and the tantalising, abrupt conclusion will leave as many viewers seething as fascinated. This elliptical story about an unlikely rapport between two loners may not quite deliver what it seems to promise, but then writer-director Oliver Hermanus could reasonably counter that he never promised us anything specific in the first place. While connoisseurs of low-key, moody, enigmatic drama will find much to savour here, the film's oblique quality will make it a hard sell, and The Endless River is unlikely to equal the impact of Hermanus's more direct 2011 drama Beauty or its predecessor Shirley Adams (2009).
No doubt we can take the otherwise enigmatic title as a metaphor for life, which rarely supplies narrative closure.
Set in a rural community in South Africa's Southern Cape region, the film tracks the strange paths by which two characters form a close but precarious bond. One is a Frenchman, Gilles (Nicolas Duvauchelle), who lives on a farm with his wife and two sons. The other is a young black woman, Tiny (Crystal-Donna Roberts), who works in a local restaurant, and whose husband Percy (Clayton Evertson), a former gang member, has just returned from prison. Percy moves back in with Tiny and her stern mother Mona (Denise Newman), but before long, he's hanging out with old associates in the barroom. But does that mean he's fallen back into his criminal ways?
The less said about subsequent events, the better, as this film is very much about its surprises - of the slow-release variety, coming in their own time and in a very minor key. The story hinges on two violent incidents - the second not shown at all, while the first is all the more shocking for being played out in a series of moody, ominous extended travelling shots, set to Braam de Toit's nerve-racking, sombre string score. A key part in sustaining the film's sense of ambivalence is played by local cop Groeneweld (an impressive Darren Kelfkens, playing it subdued at a nearly zen degree), who at first seems indifferent to what's happening, then makes a dangerously decisive gesture. He's the centre of the film's depiction of the violence in contemporary South Africa and the ways in which people cope with it, with different types of justice still prevailing for white and black, haves and have nots.
The film begins by wrong-footing us in credits which suggest a pastiche of a 40s/50s Hollywood melodrama or Western, with accompanying magnificent landscapes. What follows, however, is more like a numbed take on Hitchcockian suspense, arranged into three chapters. The final episode brings together Gilles and Tiny in a seemingly unlikely situation, and more and more, right up to the cut-off, we wonder where their story is going. But then the film has felt like this all along, and no doubt we can take the otherwise enigmatic title as a metaphor for life, which rarely supplies narrative closure.
If the film doesn't connect as intensely as it might, it's partly because of French actor Duvauchelle, visibly uncomfortable in English, and not quite mustering the finer shading that his character calls for. Co-star Roberts, however, offers a more suggestive bundle of nuance, her Tiny is vulnerable, defiant and conflicted in turn. Christ Lotz's Scope photography is atmospheric and claustrophobic, especially in its more involved movements, although the desaturated palette sometimes makes for a certain visual airlessness.
Production companies: Swift Productions, Moonlighting Productions
International sales: Urban Distribution International sales@urbandistrib.com
Producers: Didier Costet, Marvin Saven, Genevieve Hofmeyr
Cinematography: Christ Lotz
Editor: George Hanmer
Production design: Franz Lewis
Music: Braam du Toit
Main cast: Nicolas Duvauchelle, Crystal-Dawn Roberts, Clayton Everston, Denise Newman, Darren Kelfkens