Dir. David Sington. UK, 2015, 96 mins.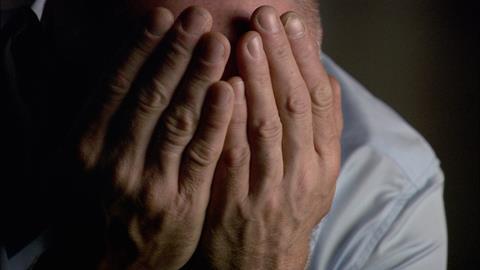 The Fear Of 13 couldn't be simpler, as a seated man tells the viewer the story of his life. Director David Sington (In The Shadow Of The Moon, Thin Ice ) illustrates elements of what is recounted but mostly he keeps the camera on the speaker, shooting against a stark, black background. It is utterly spellbinding.
Revelations arrive like a succession of bombshells as he faces years of raised hopes and dashed expectations over a murder he claims never to have committed
A fusion of confessional and one-man show, Sington's documentary offers a mesmerising portrait of an individual who refused to be defined by the brutal life of a convicted felon. The true story of 'Nick' is best approached with as little advance knowledge as possible. Googling him would spoil a film filled with unexpected twists, jaw-dropping developments and the heartwarming, hard-earned sense of a person able to transcend even the most humbling of circumstances. It is the kind of captivating monologue that works its way under the viewer's skin and should find a welcoming arthouse audience following its world premiere at the London Film Festival. A UK theatrical release is set for November.
Nick proves to be a born storyteller. Convicted of murder, he spent more than twenty years on Death Row and found an element of his salvation in a passion for literature. He would read Kipling, Elmore Leonard, and Dashiell Hammett, falling in love with adventure yarns and extending his vocabulary at every opportunity. He counted the days in the numbers of words he learned, including triskaidekaphobia - the fear of thirteen.
Soft-spoken, articulate and poetic in his use of language, Nick paints pictures with an almost actorly skill, adding his own sound effects and dramatic emphasis. He puts you vividly in the moment as he describes the all-consuming silence of two years in solitary confinement or the twenty-five days he once spent on the run as an escaped prisoner. There is something of Spalding Gray about him. There is something of Errol Morris's work in the film.
The Fear Of 13 is cleverly paced as it allows us to become comfortable with Nick and grow to like him before it provides more information about his life. Revelations arrive like a succession of bombshells as he faces years of raised hopes and dashed expectations over a murder he claims never to have committed. Some of the most shocking revelations are left until the end of the film. As if in recognition that his story is like something from a Dumas novel, we are told early on that everything he tells us has been independently verified.
Given the benefit of hindsight and years of contemplation that have allowed him to become the person he wanted to be, Nick offers shrewd self-analysis. You begin to understand why he ultimately petitioned the courts to set a date for his execution and be done with all the false hopes and legal manoeuvres that had consumed years of his life.
Sington wisely allows the monologue to unfold with little in the way of distraction. The editing gives proceedings an elegant flow and the images are simple and bold. Water cascading over an empty prison chair or a young child running into the woods underline the poignancy of Nick's memories rather than toppling over into sentimentality.
Despite all the setbacks and defeats that Nick experienced, The Fear Of 13 is a surprisingly uplifting tale, celebrating his stoicism and salvation with an emotional impact that is hard to resist.
Production Company Dox Productions Ltd
International sales Dogwoof ana@dogwoof.com
Producers David Sington, Christopher Riley
Executive prods: Arthur S. De Moulas, David Maclas, Nick Fraser, Kate Townsend
Cinematography Clive North
Editor Robert Sternberg, David Fairhead
Music Philip Sheppard