Four Greenlanders explore their culture and identity in the opening film at 2020's online CPH:DOX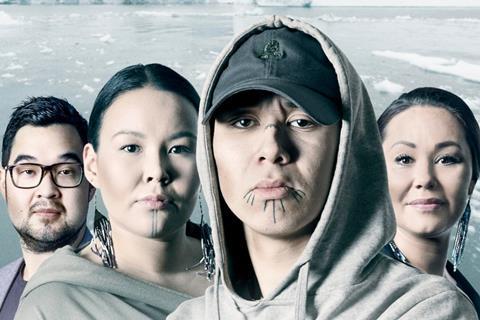 Dir. Kenneth Sorento. Denmark-Greenland-Norway. 2020. 96mins
Far-reaching, impassioned and densely detailed, this documentary explores the culture and identity of the world's largest island, Greenland, through the eyes of four young Greenlanders actively trying to shape its future. The country has been part of the Kingdom of Denmark since the early eighteenth century; a colonial legacy which many of the predominantly Inuit community feel has diluted their cultural identity. Some, but not all, of the four main subjects are actively campaigning for independence but, as the film progresses, other issues come to light. Any film which attempts to cover this much territory might occasionally leave the audience overwhelmed, and there are times when it could have benefitted from a tighter edit. But overall, this is diligent filmmaking, driven by articulate and charismatic central characters.
An invitation to meet and get to know a country which remains rather mysterious to much of the rest of the world
Originally programmed as the opening film of CPH:DOX, The Fight For Greenland now makes its premiere in the online version of the festival. While this is unfortunate – this is a film which invites the kind of debate and engagement that a public screening can offer – it's also true that the picture doesn't suffer from being viewed on a more intimate platform. It will be essential viewing in Greenland and should be of interest to audiences in Denmark and elsewhere in Scandinavia. Further afield, documentary events and festivals, particularly those with a specific grounding in indigenous issues, will no doubt show interest.
Tillie, a poised politician, is the main voice that we hear in favour of retaining Greenland's status as part of the Kingdom of Denmark; albeit a "Kingdom of Denmark 2.0", a more self-sustaining version of the current model. Half Danish, half Greenlandic, she worries that the pro-independence movement is "unadulterated populism" which relies heavily on anti-Danish sentiment.
Kaaleeraq, a student who made a pro-independence documentary, has suspended his studies to stand for parliament. His health issues – he requires regular treatment for a degenerative eye condition – would be better served if he moved to Denmark, but, he says, he would "consider that a failure".
Perhaps the most magnetic of the film's central characters are Josef, a rapper who tackles issues of national importance in angular Greenlandic verse, and his fiance Paninnguaq. The pair celebrate their union by getting matching traditional Inuit facial tattoos; their Greenlandic language video posts on Youtube are widely viewed; they are figureheads of a pro-independence movement which harnesses the arts as a means to raise awareness of the issues which plague the country.
And those issues, it becomes clear, are deeply entrenched. Alcoholism, drug abuse, child neglect and near epidemic levels of suicide are linked, by some of the interviewees at least, to a culture which has been encouraged to view itself as second class. With the reality of Greenland's social heritage looming over the film, the sudden distraction of President Trump's offer to buy the country seems surreal and far-fetched.
The film concludes with a note of hope. But perhaps more importantly, it is an invitation to meet and get to know a country which remains rather mysterious to much of the rest of the world. And for all the bleak realities, it is, as Josef points out, a place of rare beauty. A dramatic score attempts to match the savage majesty of the landscape; sweeping drone shots, in this case, seem absolutely justified.
Production company: Copenhagen Film Company Short & Doc
International sales: DR Sales drsales@dr.dk
Producers: Ulrik Gutkin
Cinematography: Kenneth Sorento
Editor: Peter Winther
Music: Uno Helmersson
Features: Josef Tarrak Petrussen, Tillie Martinussen, Kaaleeraq Andersen, Paninnguaq Heilmann, Lars-Emil Johansen, Niviaq Korneliussen