Dir/scr: Rafi Pitts. Iran-Germany. 2010. 92mins.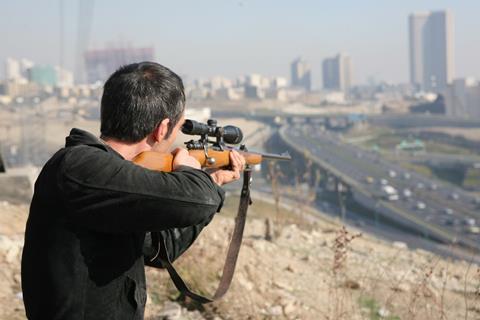 Iranian director Rafi Pitts made a strong impression in Berlin with his 2006 feature It's Winter, and The Hunter ought to consolidate his reputation. This politically-flavoured drama-cum-thriller nearly does the trick: it's taut, concise and highly individual, even though it falls slightly short of the poetic cohesion of Pitt's previous, parable-like feature.
The film's anger at Iran's ruling powers comes to a head at the end as the police is shown to be not only ineffectual but corrupt
The Hunter shows Pitts expanding his range, offering political provocation, and making his mark as an imposingly laconic lead. One of the more marketable of recent Iranian films – especially if the thriller element is highlighted - The Hunter should be a modest art house hit, while festivals with a human rights angle will take a keen interest.
The film starts out in Tehran, at the time of the recent elections, with anti-government unrest brewing to the backdrop of authoritarian declarations on the radio. Ali (Pitts) is a security guard in a car factory, stuck on the night shift because he has served prison time, for an unspecified crime. His job means that he doesn't see enough of wife Sara (Hajjar) and their six-year-old daughter Saba (Yaghoobi).
Ali lets off steam at weekends, hunting in forests outside town. But his world falls apart when Sara is killed in a conflict between police and protestors. What's more, Saba is lost and the police seem indifferent to her plight. Ali seeks her to no avail, in a series of quietly harrowing scenes, and something inevitably snaps. Ali shoots a policeman, goes on the run and is tracked down after a fog-bound car chase – a sudden bracing burst of action two-thirds of the way through what has till then been a model of art-house sobriety. And in its last half-hour, the film takes a striking left turn.
It's hard not to feel that The Hunter suffers from deferring the material that makes it most distinctive until its final third and that Pitts might profitably have cut (literally to the chase much quicker . Not that there's anything below par about the first hour, but the scenario – ordinary people's travails in the bustling maze of Tehran - is familiar territory.
Pitts nevertheless gives the Tehran section a distinctive spin: the sentiment-free depiction of Ali's desperation carrying echoes of Italian neo-realism. What makes this section especially effective is its formal patterning: repeated shots of a lone car in tunnels and overhead vistas of Tehran as an impersonal maze of motorway systems.
Impressive as a generally silent lead, Pitts delivers his minimum of dialogue uninflected and sotto voce, his saturnine face giving the beleaguered Ali a solemn moral weight. The film's anger at Iran's ruling powers comes to a head in the final sequence as the police force is shown to be not only ineffectual but corrupt.
A distinctive but unshowy score includes music by Arvo Pärt, Radiohead and guitar composer Rhys Chatham.
To sign up for Screen's weekly Reviews Newsletter with all the week's new releases, international openings and full festival reviews delivered free to your mailbox every Friday, please click HERE
Production companies
Twenty Twenty Vision
Aftab Negaran Film Productions
International sales
The Match Factory
(49) 221 53 97 09-0
Producers
Thanassis Karathanos
Mohammad Reza Takhtkeshian
Cinematography
Mohammad Davudi
Editor
Hassan Hassandoost
Production design
Malak Khazai
Main cast
Rafi Pitts
Mitra Hajjar
Ali Nicksaulat
Hassan Ghalenoi
Manoochehr Rahimi
Saba Yaghoobi