Dir: Sylvain Chomet. UK-Fr. 2010. 80mins.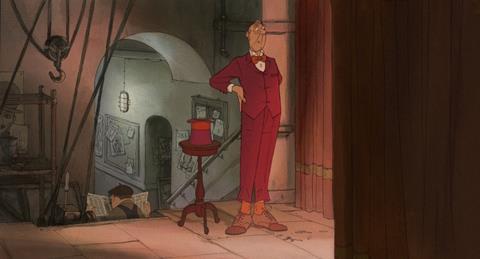 An aging French magician who is a dead ringer for Jacques Tati uses sleight-of-hand to give a clueless Scottish girl a poetic assist toward adulthood in The Illusionist. Five years in the making, master animator Sylvain Chomet's follow-up to The Triplets Of Belleville deploys superb hand-drawn imagery to bring to life an unproduced screenplay the late Tati finished in 1959. Told with no dialogue but carried along by deeply evocative sound design, this visually rewarding film's timeless, near-universal appeal should translate to widespread critical praise and art house play.
Chomet's film is bathed in self-aware melancholy, lightened by slow-burn humour and a sensibility rooted in silent-era film-making
Set in Paris, London and Edinburgh in the late 1950s as the last vestiges of variety entertainment gave way to youth-oriented rock 'n' roll, The Illusionist is a delightfully bittersweet valentine to the music hall tradition. Aiming for the heart as well as the funny bone, Chomet - whose sardonic Oscar-nominated short The Old Lady and the Pigeons preceded 2003's zanily off-kilter Triplets ($15 million worldwide) - proves himself the perfect creative choice to resuscitate Tati's long-dormant script.
Viewers whose heart strings resonated at the sight of WALL-E enjoying his ancient cassette tape of Hello, Dolly! will almost certainly appreciate the beautifully crafted nostalgia that permeates The Illusionist. The film is bathed in self-aware melancholy, lightened by slow-burn humour and a sensibility rooted in silent-era filmmaking. Its 2D imagery (with a smattering of 3D props) simply couldn't be better – there is always plenty to look at, all of it magnificently rendered.
Working solo, except for an ornery rabbit whose pit bull-like personality is a consistently incongruous source of surprise and amusement, the magician sees his engagements dwindle to nearly none. (The entertainer's name on posters is Tatischeff, the genuine name the comic and film-maker behind Mon Oncle and Mr Hulot's Holiday shortened to Tati.)
Man, rabbit and suitcase travel to wherever the work takes them. On a far flung Scottish isle whose residents are celebrating the long overdue arrival of electricity, local lass Alice believes Tatischeff to be truly magical. Since he can make coins and other objects appear out of thin air, she naively concludes that his conjuring tricks are real. From this misunderstanding springs an unasked-for father-daughter relationship when Alice follows the magician back to the mainland. The magician takes on extra work to which he is ill-suited in order to make the money to satisfy his penniless charge's culinary and sartorial whims.
The imagery excels at depicting less-harried times: as a train chugs over a trestle bridge in the country, its reflection in the water below is as stunning as the changing light over Edinburgh. And somehow the animated rain seems more real than the wet stuff in live-action films.
The deceptively simple story (which bears some scattered similarities to Chaplin's Limelight) is anchored in nostalgia for bygone traditions. And yet the theme of dedicated craftsmen (a clown, a ventriloquist, a magician) made obsolete by changing tastes (not to mention age making way for youth) remains relevant.
Tati's (1907-1982) own live-action endeavors (Jour De Fete, Mon Oncle, Mr Hulot's Holiday, PlayTime) were leisurely affairs, punctuated with meticulously calibrated physical humour. The additional factor here is a strong emotional component as the film explores self-reliance in a cruel world, making the best of increasingly dire uncertainty and striving to please without bursting anyone's bubble.
A scene in which the magician returns to his hotel drunk is dazzling - as the protagonist struggles to maintain his balance, one would swear Tati's hand-drawn stand-in has a functioning inner ear.
The musical score (composed by Chomet) and inchoate mumbles that mimic dialogue are spot-on.
The script could easily never have come to light. Its existence emerged when Chomet approached Sophie Tatischeff for permission to use a clip of her father on his bicycle from Jour De Fete in Triplets. Pleased with Chomet's storytelling approach and visual style, Sophie mentioned the script her father wrote from 1956-59. She died four months after giving her blessing to the project.
To sign up for Screen's weekly Reviews Newsletter with all the week's new releases, international openings and full festivalreviews delivered free to your mailbox every Friday, please click HERE
Production companies
Studio Django/Django Films
Cine b
International sales
Pathé International
(44) 20 7462 4427
Producers
Bob Last
Sally Chomet
Screenplay
Sylvain Chomet
Based on the original script by Jacques Tati
Animation Director and Assistant Director
Paul Dutton
Lead Compositor
Jean-Pierre Bouchet
Lead animator on Jacques Tati character
Laurent Kircher
Music
Sylvain Chomet
Malcolm Ross