A failing Japanese chef sets out to find a legendary recipe from the 1930s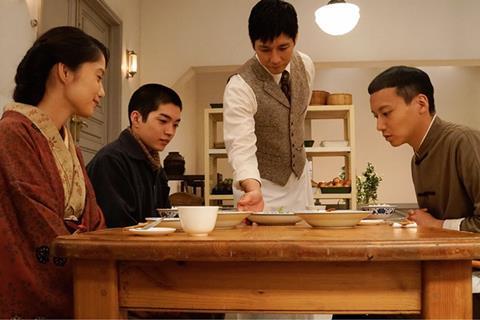 Dir: Yojiro Takita. Japan. 2017. 126mins
A culinary genius who has lost his creative mojo, Mitsuru Sasaki (Kazunari Ninomiya) is commissioned to cook a meal as a last request for dying gourmet. The catch is that he must seek out a lost recipe by famed Japanese chef Yamagata (Hidetoshi Nishijima), who cooked in occupied Manchuria during the 1930s. On his journey, Sasaki-San discovers more than just a list of ingredients; the dramatic menu includes big important life lessons and a humbling side order of perspective.
It's handsomely filmed, with the cooking styled to the point of foodie fetishism
This overstuffed and somewhat indigestible adaptation of a novel by Keiichi Tanaka will primarily appeal to fans of J-pop star and Letters Of Iwo Jima actor Ninomiya. And while this key audience will likely be enthusiastically receptive, it is hard to imagine that the film will travel much further — despite the reputation of director Yojiro Takita, best known for the foreign language Oscar-winning film Departures (2009). Although the foodie elements are created in luxuriant detail, there is a certain fussiness to both the cooking and the plotting which means that this celebration of fancy grub is not nearly as appetising as it should be.
Despite his reputation as a world-class chef, Sasaki-San is close to going out of business. This might have something to do with the fact that he has gone beyond perfectionism and tipped over into being a gigantic pain in the ass to everyone, staff and customers alike. He is teetering on the brink of bankruptcy when a mysterious job sends him on the trail of the elusive recipe collection of a chef from the 1930s, a temperamental figure with whom he has more than a little in common.
The film is divided between the two timelines, with Sasaki tracing the legacy of Yamagata through meetings with the people who witnessed his kitchen wizardry first hand. Meanwhile, in flashback, Yamagata creates his masterpiece of a menu with the assistance of a demurely self-sacrificing wife (Aoi Miyazaki) and two long-suffering assistants. Both Sasaki and Yamagata struggle to strike a balance between their desire to create masterpieces of cuisine, and their relationships with the people around them. "You may be a very talented chef," says a beleaguered kitchen hand to Yamagata, "but you are the worst person."
It's handsomely filmed, with the cooking styled to the point of foodie fetishism. But with dishes with self-conscious names like 'Land and Sea Delicacy Kaleidoscope' and 'Persian Lady's Drunken Revery, in red wine' — one of which appears to include the toenail clippings of a black chicken carcass — it's a mouthful, certainly, but perhaps not in the way intended. Elsewhere, production values are decent, with 1930s Manchuria in particular evoked in vividly striking detail.
Perhaps the main barrier to the picture connecting with a broader audience is the fact that, tonally, it is a clash of flavours; melodrama is mixed with broad comedy; and tragic deaths, invariably of key female characters, are a running theme.
Production company: Pipeline
International Sales: Toho Company www.toho.website
Producer: Masashi Yagi
Screenplay: Tamio Hayashi
Cinematographer: Takeshi Hamada
Editor: Hidemi Lee
Music: Yugo Hanno
Main cast: Kazunari Ninomiya, Hidetoshi Nishijima, Aoi Miyazaki, Go Ayano, Daigo Nishihata