An elderly man is transported back to his childhood by a ghost in Mattie Do's third feature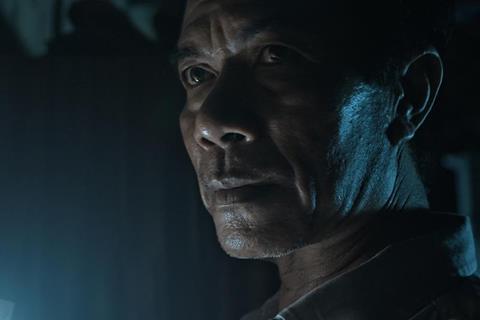 Dir Mattie Do. Laos-Spain-Singapore. 2019. 116mins
An elderly Laotian man (Yannawoutthi Chanthalungsy) realises that a ghost which has accompanied him since his childhood can transport him back to alter the past. The ambitious third feature from Laotian-born, Los Angeles-raised director Mattie Do, following Chanthaly (2012) and Dearest Sister (2016), is a teasingly complex thriller which blends supernatural themes with a distinctive backdrop of tropical futurism, to intriguing effect.
The film's atmosphere of languid menace is enhanced by the sound design
Having premiered in Venice Days, The Long Walk has had a successful festival run, winning several prizes including Best Director for Do at both Sitges International Film Festival (New Visions) and LUSCA Fantastic Film Festival. Further exposure at genre-themed festivals seems likely, and, with its idiosyncratic tone of metaphysical mind-melting horror, the film could prove to be a successful addition to a quality streaming platform.
What starts out as two story strands, linked by a geographical location but unfolding 50 years apart, frays into something more complicated as the actions of the central character cause parallel alternate realities to splinter from the core story. It's a trickily looping premise which just about holds up to scrutiny and backs up the basic tenet of time travel: you should never meet your younger self (nor should you euthanise your own mother).
The Old Man — the character is never named — lives in solitude on the outskirts of a small town, some time in the near future. He scrapes together a living by foraging for scrap metal and selling it to a brash market stall proprietor. Money is paid directly into a chip which is implanted in his arm. But his vocation, practised covertly, is to perform mercy killings to release people (invariably women) from their suffering. Buried in a glade near his shack, the spirits of those women hover, their journey to the next life interrupted.
The timeline slips back 50 years to the same house and same stretch of road where we meet the old man's younger self, an only child of a bullying father and an ailing mother. The child's life is changed forever when he discovers a woman dying from her injuries after a road accident. He holds her hand as she passes; from that point onwards, their fates are intertwined. She appears to him as a benign ghost.
At first, she loiters at distance; later there's a companionable rapport between the two. As an old man, he still chats to her, but in the fifty years they have spent together, she has never answered him. She can, however, transport the old man back to his childhood where he can interact with his parents and his younger self. Still scarred by the memory of watching his mother die of lung disease, the old man decides to intervene, an act which will have catastrophic ramifications for his future self.
The film's atmosphere of languid menace is enhanced by sound design that harnesses the shrill whine of the forest insects and turns it into something ominous and foreboding. Likewise an evocative score, all sighs and moans, like the lament of unmoored spirits. The juxtaposition of the banal and the supernatural may draw comparisons with the work of Apichatpong Weerasethakul, but perhaps a better reference would be the heady oddness of Mati Diop's Atlantics.
Production company: Lao Art Media, Screen Division, Aurora Media, 108 Media
International sales: 108 Media jordan@108mediacorp.com
Producers: Annick Mahnert, Mattie Do, Christopher Larsen, Douangmany Soliphanh, Justin Deimen, Abhi Rastogi
Screenplay: Christopher Larsen
Editing: Zohar Michel
Cinematography: Matthew Whitcomb Macar
Production design: Thana Maykaoumput, Chatchai Chaiyon
Music: Anthony Weeden
Cast: Yannawoutthi Chanthalungsy, Por Silatsa, Noutnapha Soydara, Vilouna Phetmany, Chansamone Inoudom, Vithaya Sombath