Emma Dante returns with an ode to the sisterhood set in urban Palermo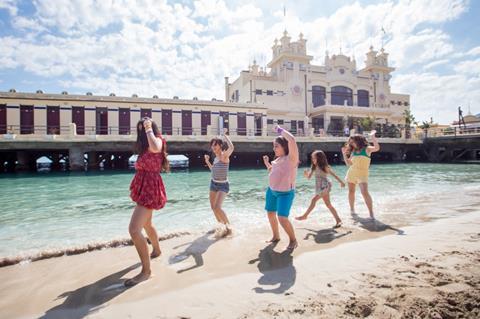 Dir. Emma Dante. Italy. 2020. 89 mins.
The three ages of woman are charted in Emma Dante's empathetic new drama about five sisters, which is based on her own award winning stage play of the same name. It's a film that rises above a few heavy-handed directorial touches to weave, over its admirably lean running time, a tapestry of sisterly bonds and fissures that also has plenty to say about the film's setting, the dense, oppressive urban Palermo.
Likely to touch a chord
For much of the film, the tensions at play in this ancient, ravaged city are contained in the space of a single apartment, just as, in Dante's 2013 debut, the Sicilian feminist western A Street in Palermo, they were contained in a single narrow lane on the outskirts of town. But if the setting is avowedly, sometimes hermetically local, the women's story at its heart is likely to touch a chord everywhere with audiences prepared to embrace a film whose mood darkens as it progresses.
The 'stagey' element of this adaptation is its division into three acts, which correspond to the youth, middle-age and twilight years of the sisters Macaluso. The opening section is a tour de force that introduces us to the five siblings, who all live together, seemingly without any parental presence, in a cramped and dilapidated top-floor apartment overlooking a dingy stretch of Palermo's seafront. Ranging in age from elementary school to late teen, they make a living renting out the doves they keep in a rooftop space – once, perhaps, a laundry room – for weddings and other events.
We get to witness just one day of their girlhood – but it's a life-changing one, when a trip to the beach ends in tragedy. Ably abetted by Gherardo Gossi's fluid camerawork, which uses every corner of the apartment (even squeezing onto the bathroom ceiling at one point), Dante whips up a maelstrom of sisterly energy, ebulience, conflict and solidarity in this first part, which erupts into a real dance in a musical-style beach sequence set to a song by veteran Italian femme rocker Gianna Nannini.
Along the way we get to know the sisters better. Antonella is the baby and mascot of the bunch; plump and placid Katia comes next, followed by plain bookworm Lia, who has serious anger-management issues and is always in conflict with pretty, vain, romantic Pinuccia. The eldest, Maria, is the unoffical mother of the group, a willowy 19-year-old with ambitons to become a dancer.
It's no spoiler to say that if the apartment survives from chapter to chapter, not all of the sisters do. The film's sombre, melancholy, sometimes brittle second act is the andante to the opening's allegro. Now in their late thirties or early forties, the sisters are played here by new, age-appropriate actresses; in the elegaic final section, again set on a single day, the cast changes once agsin. This baton passing is made especially intriguing because Dante doesn't search for exact lookalikes; the effect is to place the sisters somewhere between individual characters and everywoman figures, to give a ritual quality to the gestures and conflicts they repeat in an apartment that some at least still call home: the faulty flush, the door handle that always come off in Katia's hands and will never be repaired, the ugly 'best plates' that are wheeled out for special meals.
Just occasionally, Dante lets a certain mannerist tendency get the better of her: there are a few too many shots of fluttering doves invading the apartment or streaming out of windows, and a piano piece by French composer Erik Satie, touching and plaintive at first, is worn out with overuse. But other intuitions are revelatory – like a scene towards the end that shows the 'shadows' left on wallpaper by beds, sideboards, that have been moved from the position they stood in for decades. There's a museum in Rome of objects supposedly scorched by the hands of souls in Purgatory; this quietly devastating scene, in which purgatory is an apartment suspended between sea and sky, turns these wallpaper marks into memorials for the souls of women who, like the Macaluso sisters, live extraordinary ordinary lives.
Production companies: Rosamont, Minimum Fax Media
International sales: Charades, carole@charades.eu
Producers: Marica Stocchi, Giuseppe Battiston, Daniele Di Gennaro
Screenplay: Emma Dante, Elena Stancanelli, Giorgio Vasta
Production design: Emita Frigato
Editing: Benni Atria
Cinematography: Gherardo Gossi
Main cast: Alissa Maria Orlando, Laura Giordani, Rosalba Bologna, Susanna Piraino, Serena Barone, Maria Rosaria Alati, Anita Pomario, Donatella Finocchiaro, Ileana Rigano, Eleonora De Luca, Simona Malato, Viola Pusateri