Dirs. Chen Kuo-fu, Gao Qunshu. China. 2009. 117 mins.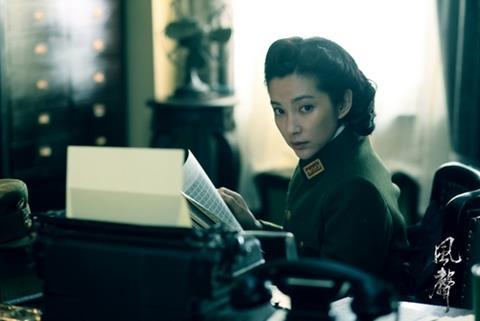 Good acting and a well-plotted mystery make for an entertaining ride in Chinese hit The Message, an Agatha Christie-style, WWII-era drama. Set in a luxuriously furnished stone castle and boasting ample star power, this film about sinister government agents trying to unmask a spy for the resistance grabs viewers' attention from the start and never lets go.
Viewers are sure to take notice of (or issue with) the diabolically mischievous nature of the torture sequences
Released wide on September 29 in China, this $10m film has taken $19.9m in 13 days with plenty of gas left in the tank. Chinese-speaking audiences across Asia are likely to respond with similar enthusiasm, and deals for a number of local territories have already been struck through Huayi Brothers. And although it will present marketing challenges in Western countries which could severely limit its potential there, The Message does have genuine popular appeal and could emerge through themed festivals.
In 1942 China, a resistance movement has begun assassinating top figures in the puppet government loyal to the Japanese. Top counterintelligence official Colonel Takeda (Huang Xiaoming) learns that resistance fighters have planted a mole within his department, so he lays a trap by planting a false message about a meeting in a remote seaside castle.
At the appointed date, five members of his department arrive at the castle, at which point he proceeds to lock them in and announces that one of them must be the mole, code-named Phantom.
The five suspects include the sultry Officer Li (Li Bingbing), an expert at code breaking; bouncy Ms. Gu (Zhao Xun), who initially takes the investigation as a joke; Captain Wu (Zhang Hanyu), who nurses a complex about his father's shameful military career; openly gay Lieutenant Bai (Alec Su); and their older colleague Jin (Ying Da), who struggles under the strain of the investigation.
With their bedrooms tapped and soldiers standing guard at all times, the five suspects are pulled aside for separate interviews and soon tensions are running high. When Bai appears to be indicated by a handwriting analysis, he is dragged into the torture chamber but dies before issuing a confession. Soon it becomes clear that he was set up, however, and so the race to unmask Phantom enters a new phase.
The film's briskly paced script gives multiple opportunities for its various stars to share the spotlight. The two leading women Zhou and Li stand out in particular, with Zhou bringing her usual dynamism to the role of Ms. Gu and Li giving emotional depth to a more subdued performance. But across the board, the ensemble cast is solid.
Directing duties were shared between Taiwan's Chen Kuo-fu (Double Vision), who apparently focused on screenplay, postproduction and special effects, and up-and-coming filmmaker Gao Qunshu (Old Fish), who took the upper hand on set. The end result is sometimes slightly over-exuberant, with swooping cameras and an overdone opening credits sequence, but never short of energy. Technical credits, from the elegant costumes to the set design and the CG-rendered castle, are consistently slick.
Meanwhile, viewers are sure to take notice of (or issue with) the diabolically mischievous nature of the torture sequences, which stray far beyond the realm of political correctness, even though they are undeniably creative.
To sign up for Screen's weekly Reviews Newsletter with all the week's new releases, international openings and full festival reviews delivered free to your mailbox every Friday, please click HERE
Production companies/international sales
Huayi Brothers Media Corporation Ltd.
+ 86 10 64579338
Producers
Wang Zhonglun
Feng Xiaogang
Screenplay
Chen Kuo-fu
Cinematography
Jake Harrison Pollock
Production design
Xiao Haihang
Music
Michiru Oshima
Main cast
Zhou Xun
Li Bingbing
Zhang Hanyu
Huang Xiaoming
Alec Su
Ying Da
Wang Zhiwen