Dir/scr. David Farr. UK 2015. 87 mins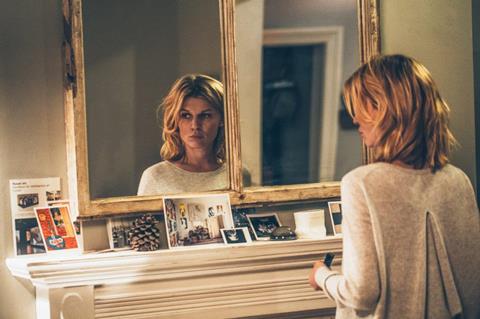 One couple's tragedy becomes another couple's nightmare in The Ones Below, an elegantly chilling psychological drama that confidently stakes a claim to classic Roman Polanski territory. Playwright and Royal Shakespeare Company Associate Director, David Farr makes a very promising feature debut that rests comfortably on the shoulders of a strong ensemble cast and successfully misdirects audience suspicions about what exactly is going on. The lack of star draws in the cast and an uninspiring, generic title may hinder commercial prospects but The Ones Below is still a compelling, classy little tale that should benefit from word of mouth and critical support.
The otherworldly score heightens expectations of a film that will unsettle in the tradition of Rosemary's Baby and mostly, modestly The Ones Below doesn't disappoint
In certain respects, The Ones Below is a throwback to the nanny-from-hell/ one-night-stand-from-hell style of thriller that flourished in the 1980s and 1990s (Fatal Attraction, The Hand That Rocks The Cradle, Single White Female etc). Farr favours restraint over melodrama which makes it more appealing. Affluent London couple Kate (Clemence Poesy) and Justin (Stephen Campbell Moore) are anticipating the birth of their first child. Jon (David Morrissey) and Theresa (Laura Birn) move into the ground floor flat below them, transforming a neglected garden into a perfectly manicured lawn that could pass muster in Desperate Housewives.
Theresa is also expecting a baby and there is an instant rapport between the women. It is much harder to warm to wealthy businessman Jon, however, who seems gruff and intimidatingly aloof. A tragic accident sets the couples apart and lays the seeds that will encourage the viewer to question the sanity of one particular character.
The Ones Below shuffles a familiar deck of plot options but the quality of Farr's writing creates enough little subplots that boil away, adding texture and tension. Justin may not be as keen as Kate at the prospect of parenthood. Kate's frosty mother shows a distinct absence of maternal instinct and Kate frets about history repeating itself. Jon appears to be overprotective of an uneasy Theresa, who reaches for some fortifying alcohol the moment his back is turned. The economical, precisely calibrated screenplay is nicely filled with enough simmering conflicts, character flaws and guilty resentments to keep you intrigued by what lies beneath the surface of these comfortable, middle-class lives.Farr manages to shift the balance of sympathies as we are allowed glimpses of the different sides to each of their natures.
Farr is also well-served by his cast, who bring conviction to every stage of a plot that carries echoes of Hitchcock, Chabrol and the writing of Ruth Rendell. Laura Birn softens the hard edges of a woman seemingly trapped by her status as a trophy bride and cherished mother-to-be. A decidedly glum David Morrissey is very convincing as a man whose presence sucks all the air from the room. Stephen Campbell Moore is so engaging as the ordinary, mild-mannered husband craving a quiet life that you wonder why he is not given more substantial film roles. Clemence Poesy effectively captures the sense of a woman on the verge of a nervous breakdown, her anguished, wild-eyed stares and mounting hysteria making the character's actions all the more believable.
The Ones Below is very good at misdirection, successfully leading you along the garden path before the penny finally drops. Despite the film's trim running-time, there is a sense of calm control in the pacing and never any hint that events are being forced. There is a slight rush of developments in the closing stages but for the sleight of hand to work the reveal has to be swift and decisive.
Ed Rutherford's lush cinematography adds to the polish of the production with his exploration of minimalist apartments and framing of seductive swimming pools adding to our sense of the characters lives and inner emotions. The otherworldly score by Adem Ilan heightens expectations of a film that will unsettle in the tradition of Rosemary's Baby and mostly, modestly The Ones Below doesn't disappoint.
Production Companies: Cuba Pictures, Tigerlily Films, BBC Films, BFI
International sales: Protagonist Pictures info@protagonistpictures.com
Producer: Nikki Parrott
Cinematography: Ed Rutherford
Editor: Chris Wyatt
Production design: Francesca di Mottola
Music: Adem Ilhan
Main cast: Clemence Poesy, David Morrissey, Stephen Campbell Moore, Laura Birn