Nearly half a century after it started shooting, Orson Welles' final film bows at Venice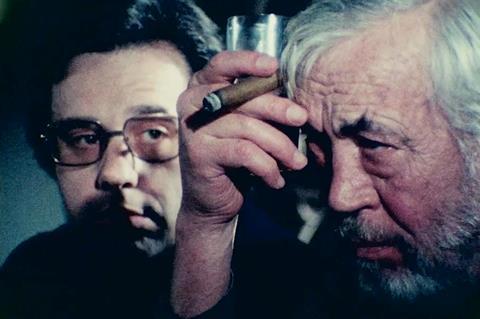 Dir. Orson Welles. US. 2018. 122 mins.
In an industry where 'long-awaited' usually just means 'hyped for several months', here's a film truly deserving of the term: completed 48 years after it started shooting and 33 after its director's death, and a work that few ever really expected to see. The Other Side of the Wind has long been legendary as Orson Welles's uncompleted final feature, an experimental swan song that he shot piecemeal between 1970 and 1976.
Perplexing, sometimes exhausting but never less than fascinating
Now assembled, partly thanks to a crowdfunding campaign, under the aegis of producers Frank Marshall (a production manager on Welles's original shoot) and Filip Jan Rymsza with editor Bob Murawski, The Other Side of the Wind is a revelation not least because of the questions it poses.
First, you wonder whether this Wind is really close to the film Welles would have made, or whether a completed film could only really be imagined in the perspective of the intervening decades of cinema. Quite another question – and one that's hard to answer on one dizzying viewing - is the film's quality. Wellesians, both hardcore and casual, will certainly argue about Wind long after its Venice premiere and its release by Netflix in November. It's a safe bet that many contemporary viewers will find the film confusing, abrasive, pretentious and antediluvian in its sexual politics. But there's no denying the audacity of Welles's undertaking, and of the reconstruction project.
What can be said with certainty is that this version of Wind is perplexing, sometimes exhausting but never less than fascinating.
The film begins with a voice-over from film-maker Brooks Otterlake (Peter Bogdanovich), over a still of a wrecked car in which veteran director Jake Hannaford (John Huston) met his death following a party for his 70th birthday (the recently-added intro introduces the film's one overt anachronism, a reference to cellphones). Wind goes on to show the party – held at the house of Dietrich-like star Zarah Valeska (Lilli Palmer) – and the events leading up to it, as well as sequences from Hannaford's latest film, called (what else?) The Other Side of the Wind, screened at the party and at a deserted drive-in.
The action proper begins at a sound stage where Hannaford is shooting a steam bath scene – one of several full-on sexual sequences throughout. It then follows him and a convoy of vehicles filled with crew members, acolytes, journalists and documentarists hanging on his every word – one of them played by film historian Joseph McBride - while Kael-esque film critic Julie Rich (Susan Strasberg) is on hand to ask Hannaford confrontational questions.
Huston, manifestly playing both himself and a version of Welles, is magisterially amused throughout, although it's a somewhat one-note performance, possibly because the frenetic, fractured editing scarcely allows it to develop organically. Meanwhile, in sequences reminiscent of the Jack Palance moments in Godard's Le Mépris, Hannaford's right-hand man Billy Boyle (director and long-time Welles associate Norman Foster) nervously shows footage to a coldly unimpressed studio executive visibly modelled on producer Robert Evans.
Later, the company assembles at Zarah's mansion, where the badinage comes thick and fast. Most of the party comprises a quickfire torrent of barbs, bons mots and elegantly acidic declarations of war. Bogdanovich's character is, again, a version of himself - a film historian turned director – and Bogdanovich plays it persuasively with a mix of puppyishness and knowing fatigue. The film is also as self-referential as they come, with wry comments made about neo-realism and the French New Wave: someone even comments at one point, "Suspense! Pure Hitchcock!"
The dialogue at the party and before is sometimes hard to follow, the delivery resembling the overlapping dialogue style associated with Robert Altman, but which Welles had already developed in his own films. And the general ambience and chiaroscuro photography suggest John Cassavetes, with the long-bad-night-out scenario echoing both La Notte and La Dolce Vita. Intrigue and rumour centre around someone conspicuously absent from the party: Hannaford's young male lead John Dale (Robert Random), their mentor-protégé situation (involving a meeting at sea in Mexico) oddly echoing the central male relationship in Welles's The Lady From Shanghai.
The film-within-the-film, screened in chunks, forms a striking contrast with the main narrative. It is a moody, vividly coloured number without dialogue, an existential erotic drama that plays on elements of European art cinema, especially American-set: most apparently Zabriskie Point and Jacques Demy's hippie-era L.A. drama Model Shop. It involves a young biker tangling sexually with a mysterious free-spirited woman. Played by Welles's co-writer Oja Kodar, silent throughout, she's identified in the end credits only as 'The Actress', although party-goers disparagingly refer to her as 'Pocahontas' because of her supposed Native American identity.
Hannaford's movie, parodic as it appears to be on Welles's part, may be hard to swallow for 21st-century audiences because its sexuality is extremely of its time: its glossy visual stylisation and outright objectification of both Kodar's and Random's often naked bodies suggests a cross between a 70s Penthouse shoot and classic Elektra LP sleeves. The film features some unnerving sequences – notably a long-notorious sex scene in a car – and some quite magnificent ones, notably the couple's chase among the painted flats of a deserted studio lot, a kinetically-edited sequence that's like a psychedelic update of the mirrors in The Lady from Shanghai.
All in all, the variety of visual styles and textures throughout forms a magnificent testament to Welles's long-serving and by all accounts long-suffering DoP on this project, the late Gary Graver.
A particularly challenging element is the ferociously dense script, crammed with one-liners (one character "wouldn't know his cineaste from a hole in the ground") along with extended, sometimes enigmatic discursive passages, and ample nods to Welles's beloved Shakespeare. It's also hard to get a grip of all the characters, although Hannaford's associates – played by, among others, Edmond O'Brien, Cameron Mitchell and Mercedes McCambridge – cut strong presences in a muscular old-school way.
You might see the film as a sort of reportage on its own unconventional making, and on its meaning in the cinema climate of the 70s – with real-life film-makers at the party including Claude Chabrol, Paul Mazursky and even Dennis Hopper (it's tempting to see Wind as a kindred project to that director's own film maudit, The Last Movie). Other themes include alpha-male rivalry, with an implicitly homoerotic factor strongly at work. Despite the lasciviously adoring footage of Kodar, Hannaford's real love object in this story appears to be his male star Dale, seen in his film as a more feminine Jim Morrison lookalike.
Now that The Other Side of the Wind actually exists, cinephiles will certainly need to see it more than once to untangle the formidable density of a film that comes across as both boldly innovative and as a somewhat outré 70s period piece (that period element has been perfectly fine-tuned by the addition of a magnificent new jazz score by Michel Legrand, along with much pop and rock of the era). How much the film's existence will cause critics to retrospectively rewrite the book on Welles is another question, but it certainly offers a mesmerising new closing chapter.
Production companies: Netflix, Les Films de l'Astrophore, S.A.C.I., JKK Productions, Americas Film Conservancy
Worldwide distribution: Netflix
Producers: Frank Marshall, Filip Jan Rymsza
Screenplay: Orson Welles, Oja Kodar
Cinematography: Gary Graver
Editors: Bob Murawski, Orson Welles
Production design: Polly Platt
Music: Michel Legrand
Main cast: John Huston, Oja Kodar, Peter Bogdanovich, Susan Strasberg, Norman Foster