Burak Cevik's intriguing film follows a young pregnant woman who lives in a cave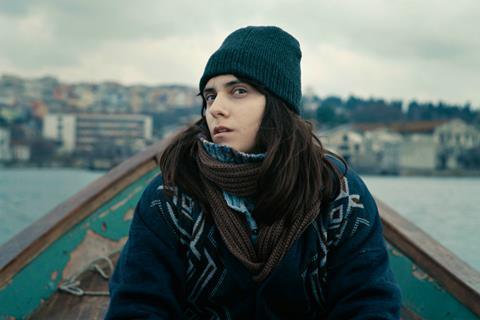 Dir/scr: Burak Cevik. Turkey. 2018. 70mins
A puzzle-box of a film that wants to be appreciated more than solved, The Pillar Of Salt is as obtuse as it is enigmatic, piecing together a purposefully disjointed narrative with arresting imagery and a strong mood.
For all of its aesthetic flair and rhythmic flow, there is an emptiness to The Pillar Of Salt
While writer/director Burak Cevik infuses every frame of his feature debut with a distinctive style and tone, it often feels intriguing yet incomplete. Premiering in the Berlinale's Forum section, then screening at Ankara and now Adana, it is as if the movie has emerged out of the same womb-like cave that its protagonist favours — and perhaps a few moments too soon.
Why the unnamed, raven-haired central character (Zinnure Ture) dwells where she does is never explained, although the cave's closed-in confines aptly establish The Pillar Of Salt's intimate air. In one of her daily excursions in search of her missing sister, the pregnant woman utters a line that could also be seen to encapsulate the film. "The most troublesome curse is to freeze a human in time," she remarks, after espousing the Old Testament tale of Sodom, Lot and Lot's wife that gives the movie its title. There is evidence that her own life is moving forward, but there is also a sense that she is treading water by revisiting the past.
The involvement of a series of other dark-haired women — on boats, and in botanical gardens, pet stores, darkrooms and TV repair shops — adds to both the film's ethereal vibe and the idea that a pattern is at play. Heightening this sensation, Cevik lingers on random minutiae, be it photo negatives in their black-and-white glory or the hypnotic to-and-fro of a table-tennis match.
None of Cevik's diversions strengthen or even deepen the narrative yet — given that his protagonist describes herself as a part-time vampire, inhabits a world devoid of men and crawls into a bathtub with her doppelganger each night — a coherent story clearly is not his goal.
Styled to evoke a dream, individual images stand out, with Cevik and cinematographer Burak Serin exacting within the film's Academy-ratio frames. Still, for all of its aesthetic flair and rhythmic flow — the filmmaker also acts as his own editor — there is an emptiness to The Pillar Of Salt. It is visually vivid and radiates a definite allure but, beyond its images and atmosphere, it is also somewhat vacant.
Production company: Fol Film
Sales contact Fol Film, cevikburak@gmail.com
Producers Arda Ciltepe, Cem Celal Bilge, Semih Gulen, Burak Cevik, Selman Nacar
Production design Billur Turan
Editing: Burak Cevik
Cinematography Burak Serin
Music Ozan Tekin
Main cast Zinnure Ture, Dila Yumurtacı, Esme Madra, Banu Fotocan, Elit Iscan, Nihal Koldas