Marcus Lindeen takes the top prize with a fantastic voyage from 1973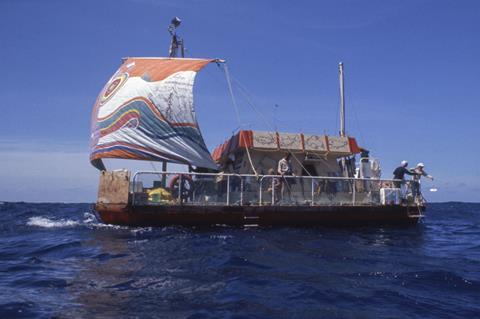 Dir/scr. Marcus Lindeen. Sweden/Denmark/US/Germany. 2018. 97 mins.
Winner of the top prize – the DOX: AWARD – at the recent CPH: DOX festival, Marcus Lindeen's follow-up to The Regretters is another studio-based project which uses some superb 16mm period footage to take the viewers out onto the stormy seas of identity politics in the 1970s. A thoughtful and fascinating piece, it's a game of two halves, however, with Lindeen making heavy work of modern-day footage which tends to drag on the dynamism of the past.
Gifted with eight hours of 16mm footage taken onboard over 40 years ago, Lindeen has quite a story to tell here
Lindeen has reunited the seven survivors of an 11-man raft trip across the Atlantic in 1973 put together by the radical Mexican social anthropologist Santiago Genovés. Having lived through a plane hi-jacking, Genovés came up with the idea of isolating people in a "laboratory" in order to study conflict. He devised a seven-metre steel raft called the Acali which would sail from the Canary Islands to Mexico over three months, crewed by volunteers of different nationalities, race, religion and social backgrounds in order "to create tension".
Interesting times, the 1970s: he had no problems financing or filling it with a team of good-looking parents (he wanted sexual sparks between "attractive people" who might be stressed about missing their children) and setting out to sea without a care in the world, it seems. The only person worried about safety was the only professional on board, Maria, the Swedish captain. The women were all put in positions of authority – the Israeli doctor, Edna, frogwoman Servane – the booze was loaded up, books were banned, and Genovés sat back and waited for it all to kick off. No wonder the press on shore started calling it the "sex raft".
Gifted with eight hours of 16mm footage taken onboard, Lindeen has quite a story to tell here, especially as it didn't at all work out as the late Genovés planned. One of the most shocking elements is watching everyone on board in bikinis and trunks, hatless, completely exposed to the elements and the currents they were trying to use to reach their destination (the Acali had no engines). The whole idea was madcap but unbelievably they coped; in fact, it was Genovés who started to crack.
With a great deal of slow solemnity which didn't accompany the original expedition, Lindeen has recreated the raft in a studio (it was exhibited as part of CPH: DOX) and invited the survivors inside to look around. It's interesting that only one man, Japanese photographer Eisuke, has survived to chat awkwardly with his female sea-mates about what they recall and how they might interpret it now. Certainly, it's unimaginable that the voyage of the Acali would take place in today's safety-obsessed climate, but what, if anything, did they learn during this crazy, golden opportunity?
Sadly, Genovés isn't around to tell his side of the story, but Lindeen has written a terrific narration from the anthropologist's diaries and poetry, read with a great deal of relish by the actor Daniel Giménez Cacho. It livens up the slow sequences and adds tow to the undercurrents on this fantastic voyage.
Production company: FASAD productions AB
International sales: Wide House, ac@widehouse.org
Producer: Eric Gandini
Production design: Simone Grau Roney
Editing: Alexandra Strauss, Dominika Daubenbuchel
Cinematography: Måns Månsson
Narrator: Daniel Giménez Cacho, based on the writings of Santiago Genovés