Dir/scr. Alison Maclean. New Zealand, 2016, 102 mins.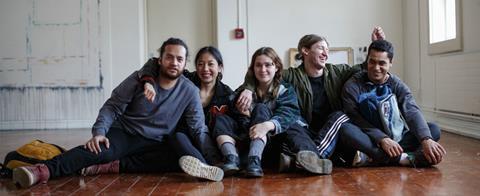 In one of The Rehearsal's electrifying early scenes, Kerry Fox's no-nonsense acting teacher warns her new students about the pressures that await. "You've probably heard things, that this first term is a physical and emotional undoing," she advises. Her words loom over a narratively teasing, structurally taut and emotionally textured adaptation of Man Booker award-winning author Eleanor Catton's first novel, as writer/director Alison Maclean crafts a drama that's as piercing as it is potent.
As a director, Maclean's instincts are as finely tuned as her excellent cast, and as multifaceted.
Fans of the Canadian-born, New Zealand-raised filmmaker won't be surprised at the complex, compelling and challenging feature that results — or that The Rehearsal is destined for longevity at festivals and beyond, with the film premiering in New Zealand in July, then making its way to Melbourne, and now slated to screen in both Toronto and New York. Maclean's previous feature, 1999's Jesus' Son, won awards in Venice, while her debut, 1992's Crush, played in competition at Cannes.
That said, her third full-length effort remains a film all viewers will want to discuss, even if some can't quite appreciate its purposeful ambiguities. Those who can rise to the challenge are in for an intelligent, incisive and even sometimes amusing rumination on a plethora of thorny topics: the cost of making art and practicing a craft, the lessons students really learn from their instructors, the difference between leading and following, and the baggage actors draw upon for each part — and take with them afterwards.
With novelist and playwright Emily Perkins turning her hand to screenwriting for the first time, Maclean dives deep into a story that twists professional ambitions, personal awakenings and a public controversy into a dissection of performance and identity. Fox's Hannah oversees a prestigious Auckland drama school, where she coaches her pupils to deconstruct themselves in order to play others. Combined with her blunt manner, it's a method that nervous fresh recruit Stanley (James Rolleston) initially finds intimidating.
The 18-year-old country boy clearly feels that way about much of his new existence, choosing to pursue a romance with high schooler Isolde (Ella Edward), rather than indulge in the partying antics of his classmate and flatmate William (Kieran Charnock). Swiftly, though, Stanley's confidence grows. He impresses Hannah with an impersonation of his father, and with his group's decision to base their end-of-year project on a ripped-from-the-headlines affair between a tennis coach and a teenage prodigy. What he confesses to his peers (including Alice Englert, Michelle Ng and Scotty Cotter) but not his teachers, however, is that the girl at the centre of scandal is Isolde's older sister (Rachel Roberts).
Accordingly, Stanley becomes torn between his desire to do whatever it takes to achieve his dreams and his inner turmoil about exploiting the intimate details of someone's life. Unravelling across monthly chapters spanning the school year from February to November, The Rehearsal contrasts his in-class experiences with his everyday activities. In the process, it finds humor and candor in individual scenes, as well as thrills, insights and intrigue as they're weaved together, and each segment veers builds up to a revelatory climax.
Films about acting often ask much of their talent, and though barely typical otherwise, The Rehearsal fits the bill in that regard. Fox may remain the feature's most forceful and well-known figure, but she's not its only star. After earning acclaim in Boy and showcasing his maturity in The Dark Horse and The Dead Lands, Rolleston continues his on-screen coming-of-age journey with a portrayal that's introverted and contemplative when necessary, and also convincingly gregarious and charming when required. The rest of the young performers cycle through an array of emotions and responses with authenticity; that they're playing a passionate crop of promising thespians isn't hard to believe.
As a director, Maclean's instincts are as finely tuned as her excellent cast, and as multifaceted. An early glimpse of a student thrashing about in tennis garb gives an indication of the film's energy and vibrancy, while rehearsal sequences demonstrate intimacy and fluidity, with cinematographer Andrew Commis (Girl Asleep) and editor Jonno Woodford-Robinson (Mahana) also among the feature's standouts. Ultimately, though, The Rehearsal proves equally sensitive and audacious in its approach to both style and story. Making an impact isn't easy; doing so in such a careful yet commanding manner that so perfectly encapsulates the material is all the more rare and rewarding.
Production company: Hibiscus Films, T.H.E. Film
Sales: Mongrel International, international@mongrelmedia.com
Producers: Bridget Ikin, Trevor Haysom
Screenwriters: Alison Maclean, Emily Perkins
Cinematography: Andrew Commis
Editor: Jonno Woodford-Robinson
Music: Connan Mockasin
Production designer: Kirsty Cameron
Cast: James Rolleston, Kerry Fox, Alice Englert, Ella Edward, Kieran Charnock, Michelle Ng, Scotty Cotter, Rachel Roberts, Marlon Williams.