Joanna Hogg makes a semi-autobiographical film starring Tom Burke, Honor Swinton-Byrne and Tilda Swinton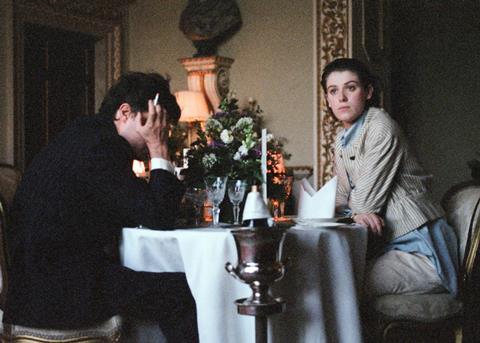 Dir/scr. Joanna Hogg. UK. 2019. 110 mins.
There seems little doubt that The Souvenir is a brilliant little gem, a rigorously-authentic, highly-personal and admirably-open memoir by a British director whose reputation is as slow-burning as her films. There's also little doubt, though, that The Souvenir will resonate very differently with audiences, and that's a large part of why Hogg's openness is so laudable, and the jewel she has made so multi-faceted. In a fractured Britain, where the privileged middle-class setting she recalls has long since been derided, she risks easy judgement – resulting in both dismissal and rapture, a weight for this delicate film. Overseas, the pinpoint specificity of her setting and characters will not be understood in the same way. To sink into her world, though, is to be open to all her senses.
This portrait of the artist as a yong film-maker will certainly stand the test of time.
While Hogg has clearly delved into her own life in films Archipelago and Unrelated (less obviously so in her most recent and more experimental Exhibition), The Souvenir is nakedly personal. And she's found a muse, her alter-ego, in young actor Honor Swinton Byrne, the daughter of Tilda, who, as an unknown actor, appeared in Hogg's graduation film Caprice and plays Byrne's mother here. Perhaps it's the impeccably-recalled setting of London in the 1980s, or the appearance of Tilda Swinton, or the fact that Hogg is so clearly an artist at work, that Souvenir feels so much like a part of the same world that brought us Derek Jarman and My Beautiful Laundrette.
Byrne plays Julie, a naive, sheltered, middle-class photographer and aspiring film-maker in 1980s London. She's been in Sunderland taking photographs of a city which has been devastated by the closure of the shipyards – as Hogg herself once did – and talks animatedly of a story for a film which doesn't seem terribly authentic but gets her into film school nonetheless. Her intensity also attracts the attention of Anthony (a magnificent Tom Burke), who she meets at a party and is instantly drawn to.
"You're lost and you'll always be lost," this peculiar man, who apparently works in the Foreign Office, tells her. The privileged Julie, who has a tendency to dress like Lady Di and is described by one friend as a "trainee Rotarian", can be infuriatingly passive, and her inaction also drives her to uncomfortable places which she nonetheless enjoys. She's from a family of means and lives in an apartment in Kensington where she rents out a room. Swinton plays her country-posh mother, all tweeds and Hermes scarves.
Julie and Anthony embark on an intense affair. He buys her black suspenders from Paris and she doesn't really know how to wear them. He shows her Fragonard's painting 'The Souvenir' at the Courtauld Collection. He moves in but seems to be constantly in need of cash. It turns out he's an habitual heroin user and soon Julie is supporting him with handouts from her mother; later she drives him to his drug dealer to spend these cash bungs on the heroin he craves. In the background, there are IRA hunger strikes and Jona Lewie sings 'Can't You Stop The Cavalry'. Much of the film seems to take place over Christmas, or perhaps time is standing still. Certainly, the hunger strikes and the Libyan hostage drama which is also referenced took place years apart.
Like Julie, the audience never gets the full picture. Anthony is charming, he's supportive. He's also a little abusive and controlling. Pretentious even, with his over-sized greatcoat, love of the opera, trips to Venice and La Fenice, and his alleged Oxbridge arts degree. He's completely different from her film-maker friends and she's happy to allow him a driving seat in her life. Julie doesn't know what she wants. She's a bewildering mix of apathy and ambition, shy and soulful, undisguised and open.
Souvenir is a complex piece. On top, the story, the performances. But the soundtrack and editing gently folds the viewer back in time and holds you there. The camerawork is extremely precise. There's a repeated cut to a landscape which acts as a re-set, allows the film to breathe. This, and the upcoming Souvenir Part 2, which has already been announced with Byrne and Robert Pattinson co-starring, is a truly ambitious work, delving into the core of an artist with very little fear. The headline-grabbing casting of Swinton and her daughter might have been a drag on the delicate Souvenir, if Byrne's performance wasn't so lovely, and if Tom Burke hadn't delivered such a memorable creation. And, mostly, if Hogg wasn't in total control of her film.
Every image, every tableau here, has been carefully assembled in a film that plays fluidly, yet, like Julie, almost tentatively. You see her in the way this film is made by her future self. Souvenir, which was executive produced by Martin Scorsese, won't be to everyone's taste: it needs to sink in. And it's very specific. But the devil is in those details: it's in the tiny moments of truth. This portrait of the artist as a young film-maker will certainly stand the test of time.
Production company: JWH Films
International sales: Protagonist
Screenplay: Joanna Hogg
Producer: Luke Schiller
Cinematography: David Raedeker
Production designer: Stéphane Collonge
Editing: Helle Lefevre
Main cast: Honor Swinton-Byrne, Tom Burke, Tilda Swinton