Tory Island off the coast of Donegal is the rich setting for Loic Jourdain's observational documentary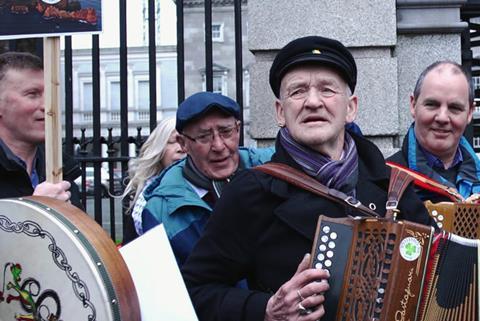 Dir: Loïc Jourdain. Ireland/France. 2020. 92 mins
A small, treeless strip of land 14.5 kilometers from the north-west coast of County Donegal, Tory Island is the most remote of all Ireland's inhabited islands. It's a rich repository of song and story, of Gaeilge Uladh (Ulster Irish) dialect, and of a fertile hybrid of Catholicism and folklore. Life there is threatened by everything from the lashing weather to the Dublin government's incomprehension or indifference to the specific needs of island life. But the people of Tory, led by their elected "King", Patsy Dan Mag Ruaidhri, are determined to make themselves heard on the mainland. This fascinating documentary captures both the unique charms of island life and the way that a few forms signed by government bureaucrats can come close to triggering an extinction event for a community as embattled as that of Tory.
Genuinely compelling
Ireland-based French director Loïc Jourdain has long been drawn to stories of island life: previous films include the mid-length picture, Tory Island After The Prophecy (2005) and A Turning Tide In The Life Of Man (2014), which followed the eight-year struggle of a fisherman from a neighbouring island, Bo Finne, against the reform of the Common Fisheries in Brussels. The Tribe Of Gods is a work which combines an outsider's perspective with the kind of detail and insight that can only come with total immersion in a place and its culture – although the events shown in the film culminate in 2018, Jourdain's relationship with the island has been long term. As such, it's a genuinely compelling piece of observational storytelling which should find further festival exposure and could even sustain a limited theatrical release.
Jourdain's filmmaking has a light touch. Our introduction to the island is steeped in myths, tradition and superstition. One grizzled old sailor tells of being surprised by a whale as a child while out in a boat with his father. The creature was repelled by a handful of Tory soil – "Saint Colmcille's magic clay" – cast into the water from a small bag which was kept on board for emergencies. Children act out the story of how Colmcille claimed the island in the first place, by means of an expanding cloak which covered the whole land mass. Stories of battling giants and rats scared away by a perimeter of sacred earth abound; the island's King is shown leading the community in song and welcoming each passenger individually from the ferry with a handshake.
But for all the pride and celebration of island life, there's a sickness at its heart. The King, Patsy, a much-loved community figurehead, has just finished a round of chemotherapy but is yet to hear whether his cancer is in remission. And the mainland government has pressed ahead with signing off on a deal for a new island ferry: a reconditioned forty-year-old vessel which is not, the islanders claim, fit for purpose. As the island council attempts to negotiate with the government, a schism appears which splits this tiny community and sets neighbour against neighbour.
Favouring shots of wind-blown sedges and kids hurling themselves off the jetty into the Atlantic chill as a means of setting the scene, Jourdain resists the use of a contextualising voice over – there is a sparse narration from Patsy, but it's more poetic than informative. This means that the source of the conflict is not fully clear. For all its fly-on-the-wall purity of approach, there's an argument to be made for a little more background information at times. But still, it's an engaging portrait which captures the unique character of the place and follows the last King of the island's struggle to bring unity to a divided people.
Production company: Lugh Films, Déarcán Media, Tita Productions
Contact: lughfilms@gmail.com
Producers: Laurence Ansquer, Loïc Jourdain, Deaglán O'Mocháin
Screenplay: Loïc Jourdain, Mirjam Strugalla
Cinematography: Loïc Jourdain
Editor: Mirjam Strugalla